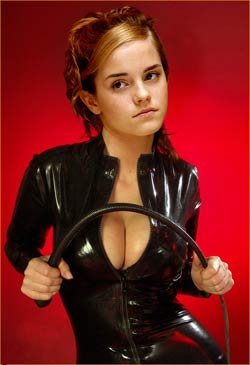 Let me get this straight… Ivygate reports that two Yale students complained of being "sexually assaulted" while attending a BDSM Party. What did they think those riding crops were for?
Last week, Yale students received two university-wide Clery Act emails informing them that two Yale students were victims of "sexual assault by an acquaintance, who is also a Yale student" at the Sigma Phi Epsilon house on February 8th. February 8th was the night of the annual "Dom" party thrown by the Women in Power Society (WIPS), a secret society, which was held in the SigEp house.

The "Dom" party is an infamous, no-cellphones-allowed event. From what we hear, people dress up in BDSM gear and porn is projected on the walls as hot freshmen guys pass around drinks. Interestingly, it's also generalized as one of the safer party SigEp hosts: there is a closed guest list with doors closing at 11 pm and everyone (besides those hot freshmen boys) is over 21-years-old.

For two assaults to happen on a night that typically gets by without major public notice is surprising–but only considering its history of safety. Dom is a party full of porn, S&M, and lots of alcohol, after all.
———————————–
The Oldest College Daily adds this:
Yale Police Department Chief Ronnell Higgins reported the two statements in separate emails to the University community on Feb. 19 and Feb. 21. The messages stated that the alleged assaults occurred at the Sigma Phi Epsilon fraternity house, and the second email corrected the first by reporting that they were both said to have taken place on Feb. 8.

"I write to let [the University community] know that the Yale Police received an anonymous report today that a second Yale student was the victim of a sexual assault by an acquaintance, who is also a Yale student," Higgins said in the Feb. 21 email.

On Feb. 22, President of the Yale Sigma Phi Epsilon chapter Andrew Goble '15 issued a statement saying the fraternity allowed another student group to lease a room in its house for a private event on Feb. 8. The statement said the event was open to guests of that organization, which remained unnamed.

"The members of Yale's SigEp chapter were shocked and saddened to hear allegations that sexual assault may have occurred in our facility on an evening when the chapter had leased event space to another campus organization," Goble said in the statement. "At this time, SigEp does not believe that the allegations are against members of their chapter." …

On the same night of Feb. 8, a private party in connection with the Women in Power Society (WIPS) senior society, took place at the SigEp fraternity house. Nine students interviewed said that party had a "dominatrix" theme. Several attendees declined to provide additional details about the annual party.

The WIPS said in a statement to the News, "We are not commenting out of respect for the privacy of the individuals involved in this situation."

A student who attended the party and spoke on the condition of anonymity said the WIPS' mission is to promote female empowerment.
Oops! Somebody evidently got a bit too empowered.
————————————