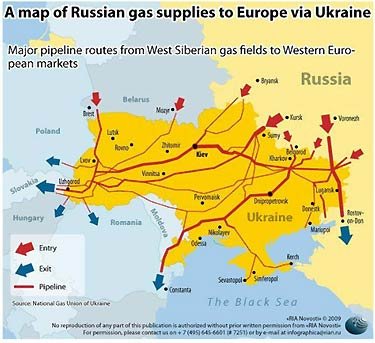 Ukraine lacks a modern mechanized and air-supported military capable of taking on Russia but, as Dr. Waller notes, Ukraine does not necessarily have to do that. Russia's economy and influence over Europe depends on energy sales to European countries. That energy is delivered by Russian pipelines crossing Ukraine.
Here's what Ukraine should do:

1. Send loyalist forces and pipeline engineers to occupy all Gazprom pipeline compressor stations, valve stations, and regulator stations.

2. Close the valves of one or more major pipelines, to demonstrate capability.

3. Issue orders to shut down entire pipelines by closing the valves and disabling them if necessary.

4. Plant demolition charges along the pipelines in remote areas, to detonate in the event it is necessary to destroy them.

The results will be catastrophic for both Europe and Russia.

For Russia, it would show that Ukraine effectively controls the single largest source of Russia's hard currency inflows.

When Putin sent forces into Ukraine, he caused Gazprom's market value to tank $15 billion in just one day.

Think, then, of how powerful the mere suggestion of a Ukrainian cutoff of gas would be on Gazprom, the Russian state, and the oligarchs who own the most shares of the company.

The results would also cause Europe to pay Ukraine some of the respect that was lost when Kyiv surrendered its nuclear weapons back to Moscow more than two decades ago. Ukraine could finally show that it isn't just Moscow that controls Europe's natural gas supply.

Ukraine can safeguard what's left of its natural integrity – and even force Putin to remove Russian forces from the country completely – by building the easy capability to destroy the pipelines completely, should Putin remain the aggressor. Meanwhile, Ukraine can show its restraint as a responsible actor in the midst of a severe national crisis, earning more serious attention to the increasingly finlandized Europe. (Keep in mind that senior political figures, such as former German socialist chancellor Gerhard Schröder, is on the Gazprom payroll.)

By showing that it can – and will – shut down or wreck Gazprom's gas lines crisscrossing its territory, Ukraine will be defeating the enemy without fighting him at all.