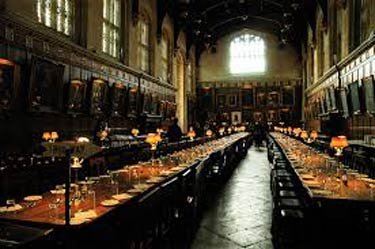 Dining Hall, Christ Church College, Oxford
The London Times Education section reviewing Oxford English Professor John Carey's memoir, The Unexpected Professor: An Oxford Life in Books looks back admiringly at Oxford in the 1950s.
Oxford in the 1950s was a pretty strange place. The English syllabus stopped at 1832. Carey's finals happened to take place in very hot weather, so "people quickly abandoned their jackets, ties and gowns. Heaps of them littered the floor, along with other trash brought in by candidates – teddy bears, smelling salts, wilting carnations – so you had to wade through a sort of flea market to get to your place." His interview to become a graduate student was conducted by "an old-style don who did not really believe in literary 'research'", followed by dinner – and then it was out to the bowling green.

And there were also, of course, "toffs" everywhere. When Carey was asked to take over the teaching of English literature at Christ Church, then considered Oxford's most aristocratic and exclusive college, for the academic year 1958-59, he says now, "it really was like Brideshead Revisited. The snobbery was astonishing.

"One student told me about a night in the year when the idea was to break more windows in Peckwater Quadrangle than your father or grandfather had done. So it created a maelstrom of glass. He was quite innocently walking through and a piece from a tonic-water bottle bounced off a wall and blinded him in one eye. He was absolutely unresentful. He was a public schoolboy and regarded that as the kind of risk you take: young gentlemen will let off steam – and if you were in the way, you were in the way."

Things have obviously changed since then.