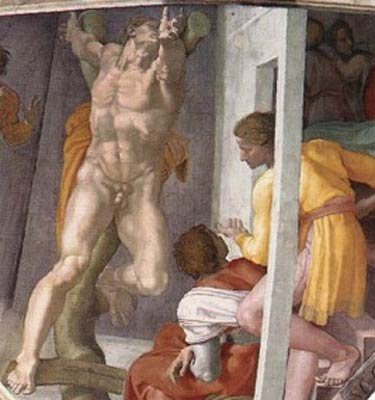 Michelangelo, The Punishment of Haman, 1508-1512, Sistine Chapel.
Dan Greenfield yesterday published a special Purim essay which repays reading even by gentiles.
Purim began when a narrow-minded fanatic refused to bow to the Grand Vizier of a multicultural empire. Jewish leaders hurriedly reassured him that this fanatic was in no way representative of their values of tolerance and appeasement. Hadn't they attended the feast where the sacred vessels of their own people were used to serve spirits to the mob? Rather than anticipating the return to their land at the end of the prophesied seventy year period of exile, they had cheered the brutish tyrant and made Sushan, his capital, into their new holy city.

The illusion of history is that every age brings with it the end of history, a new age whose awesome achievements break with the past and usher in a boundless future. And then the walls come crashing down and the new era of history ends up buried under the rubble of time.

History never ends. That is the lesson of the Holocaust, of Purim and of countless other horrifying intrusions of the old into the new. The shining new era that begins with grand public spectacles and displays of the power and might of an empire, ends with corpses and men and women fighting and running for their lives.