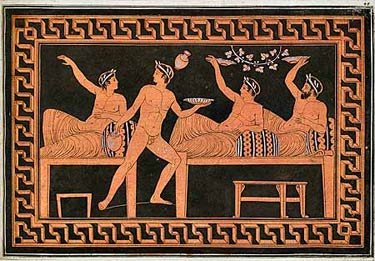 Michael W. Hannon, in First Things, serves up some serious history demonstrating that Americans have recently been legislating privileges and remodeling the fundamental institutions of Society in favor of an imaginary category of beings.
Heterosexuals, like typewriters and urinals …, were an invention of the 1860s. Contrary to our cultural preconceptions and the lies of what has come to be called "orientation essentialism," "straight" and "gay" are not ageless absolutes. Sexual orientation is a conceptual scheme with a history, and a dark one at that. It is a history that began far more recently than most people know, and it is one that will likely end much sooner than most people think.

Over the course of several centuries, the West had progressively abandoned Christianity's marital architecture for human sexuality. Then, about one hundred and fifty years ago, it began to replace that longstanding teleological tradition with a brand new creation: the absolutist but absurd taxonomy of sexual orientations. Heterosexuality was made to serve as this fanciful framework's regulating ideal, preserving the social prohibitions against sodomy and other sexual debaucheries without requiring recourse to the procreative nature of human sexuality.

On this novel account, same-sex sex acts were wrong not because they spurn the rational-animal purpose of sex—namely the family—but rather because the desire for these actions allegedly arises from a distasteful psychological disorder. As queer theorist Hanne Blank recounts, "This new concept [of heterosexuality], gussied up in a mangled mix of impressive-sounding dead languages, gave old orthodoxies a new and vibrant lease on life by suggesting, in authoritative tones, that science had effectively pronounced them natural, inevitable, and innate."

Sexual orientation has not provided the dependable underpinning for virtue that its inventors hoped it would, especially lately. Nevertheless, many conservative-minded Christians today feel that we should continue to enshrine the gay–straight divide and the heterosexual ideal in our popular catechesis, since that still seems to them the best way to make our moral maxims appear reasonable and attractive.

These Christian compatriots of mine are wrong to cling so tightly to sexual orientation, confusing our unprecedented and unsuccessful apologia for chastity with its eternal foundation. We do not need "heteronormativity" to defend against debauchery. On the contrary, it is just getting in our way.

Michel Foucault, an unexpected ally, details the pedigree of sexual orientation in his History of Sexuality. Whereas "sodomy" had long identified a class of actions, suddenly for the first time, in the second half of the nineteenth century, the term "homosexual" appeared alongside it. This European neologism was used in a way that would have struck previous generations as a plain category mistake, designating not actions, but people—and so also with its counterpart and foil "heterosexual."

Psychiatrists and legislators of the mid- to late-1800s, Foucault recounts, rejected the classical convention in which the "perpetrator" of sodomitical acts was "nothing more than the juridical subject of them." With secular society rendering classical religious beliefs publicly illegitimate, pseudoscience stepped in and replaced religion as the moral foundation for venereal norms. To achieve secular sexual social stability, the medical experts crafted what Foucault describes as "a natural order of disorder."

"The nineteenth-century homosexual became a personage," "a type of life," "a morphology," Foucault writes. This perverted psychiatric identity, elevated to the status of a mutant "life form" in order to safeguard polite society against its disgusting depravities, swallowed up the entire character of the afflicted: "Nothing that went into [the homosexual's] total composition was unaffected by his sexuality. It was everywhere present in him: at the root of all his actions because it was their insidious and indefinitely active principle."

The imprudent aristocrats encouraging these medical innovations changed the measure of public morality, substituting religiously colored human nature with the secularly safer option of individual passion. In doing so, they were forced also to trade the robust natural law tradition for the recently constructed standard of "psychiatric normality," with "heterosexuality" serving as the new normal for human sexuality. Such a vague standard of normality, unsurprisingly, offered far flimsier support for sexual ethics than did the classical natural law tradition.
Read the whole thing.
——————————–
There is a similar piece, looking at homosexuality from an anthropological perspective by David Benkof at Daily Caller.
[B]efore the 19th century nobody was called "gay." … While various societies had different ways of thinking about and expressing gender, love, and desire, homosexuality was generally something one could do, not something one could be.
Hat tips to Maggie Gallagher and Tristyn Bloom.