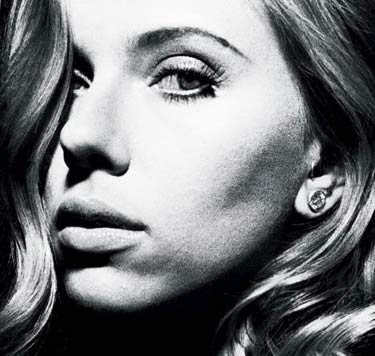 Scarlett Johannson

Anthony Lane drools all over Scarlett Johannson in the New Yorker:
There is no getting away from Johansson, and that is how her uncountable fans, female as well as male, would like it to be forever. They do not want to get away. Even if they can't afford to open a bottle of Moët & Chandon champagne, as endorsed by Johansson in 2011, they can still enjoy her likeness on the shell case of their iPhone 5, and come a little closer to her with a deep sniff of The One, the Dolce & Gabbana fragrance that the actress, as an official face of the fashion house, is paid to advertise. Ideally, we are informed, it should be "used to adorn pulse points or misted into the air." She made a short film, in luscious black-and-white, as a means of encouraging us to buy the perfume. The director was Martin Scorsese, who, presumably, was attracted by its top notes of zesty bergamot and mandarin. And the co-star was Matthew McConaughey, one of Johansson's few rivals, right now, in the stakes of global celebrity. As I said, exciting times; and she doesn't even turn thirty until November.
Scorcese directing a perfume commercial?!
I certainly had to see that.
————————————-
Dolce & Gabbana The One perfume commercial, "Street of Dreams" (2013), directed by Martin Scorcese and starring Scarlett Johansson and Matthew McConaughey.
————————————-
Good commercial, but I thought the show was stolen from Scarlett Johannson by that old Alfa Romeo Giulietta Spider. That automobile is somewhere in the neighborhood of fifty to sixty years old, being manufactured between 1954 and 1965, and it is still cooler than 90% of the cars on the road today.
Scorcese's commercial didn't make me want to buy any perfume or date Scarlett Johannson, but it did make me regret that I only once owned a first series 1966 Duetto Spider, and never the more poetic earlier Giulietta Spider.
I wonder if the Giulietta's rusted as fast or had Weber carburetors as impossible to tune properly for mere mortals. But what a car!

Better yet: the 1956 Alfa Romeo Giulietta Spider