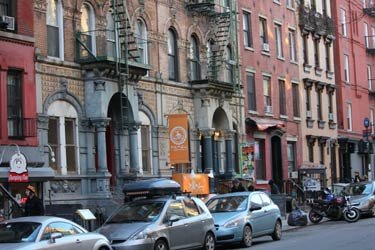 John DeVore has a great rant expressing his love/hate relationship with the world's financial center city which just elected a communist mayor by a 73% margin.
New York isn't your fantasy. You're the fantasy in New York's imagination. One day the fever will break and every New Yorker will immediately cease to be.

If New York were a cat, it would eat your face after you collapsed in the kitchen from a heart attack.

New York is Galactus. New York is Cthulhu. New York doesn't change; it mutates. Evolves. In two hundred years it will have a hundred thousand centipede legs and the entire mass will migrate south for the winter.

When did you think you were the center of New York's universe? Why did you think that? Shame on you. Your Instagrams aren't that great.

No one "wins" New York. Ha, ha.

You will lose. Everyone loses. The point is losing in the most unexpected, poignant way possible for as long as you can.

Jay Z and Beyonce are doing okay.

Struggle, motherfucker. Hustle. Fail, fail again, fail until you forget what succeeding is, and then, on your deathbed, as you're full of rotten phlegm and regret, you can look back and crack a smile that you won a couple, and survived everything else.

Hell, maybe your kin will survive the apocalypse and sing mighty ballads of your tragic battles by a roaring bonfire.

But until then — accept that your umbrellas will turn themselves inside out. That your rent is a tumor in the guts of your bank account. Complain that you deserve a raise, that the N train never, ever, ever runs when you need it to run (and that it's probably personal,) and that New York is a giant meat grinder extruding tons of chewed up dreams.

Complaining is the only right you have as a New Yorker. Whining is what children do. To complain is to tell the truth. People who refuse to complain, and insist on having a positive outlook, are monsters. Their optimism is a poison. If given the chance they will sell you out.

New York will kick you in the hole, but it will never stab you in the back. It will, however, stab you multiple times right in your face.