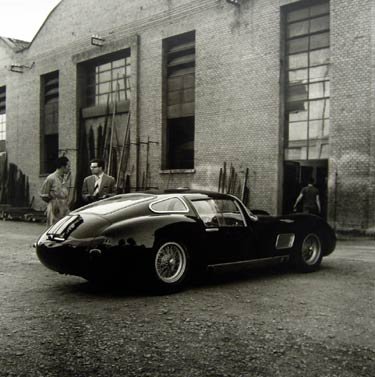 c.1957 Maserati 450S Costin-Zagato Coupe (Maserati Factory) | Gelatin Silver Print: Jesse Alexander
Maserati 450S (built 1956-1958) were nine racing cars made by Maserati of Italy, and used in FIA's endurance World Sportscar Championship racing.

[The automobile in the above photo must be] Chassis #4501 [which] had a 4.2-litre V8, based on the prototype raced at 1956 Mille Miglia and 1956 Swedish Grand Prix. A clutch failure after a very promising start in the Buenos Aires 1000 km by Stirling Moss and Juan Manuel Fangio prevented the car from commencing the season with a win. The car was redesigned to a coupe drawn by Frank Costin of England, constructed by Zagato, and raced once again by Stirling Moss at Le Mans where it failed to finish. Later, the car was restored by Medardo Fantuzzi of Maserati (new chassis #4512); later by Faralli & Mazzanti.
Via Ratak Mondosico.