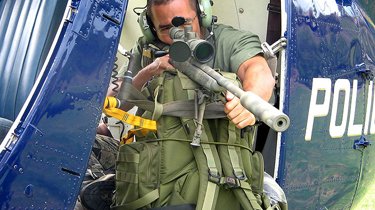 Dave Carter, at Ricochet, saw in the the federal stand-off at the Bundy Ranch a near-miss repeat of the Sand Creek Massacre of 1864, and argues that burgeoning federal power and the militarization of police and federal agencies guarantees sooner-or-later the application of excessive and deadly force by government to American citizens.
Many in the governing class, in both parties, have made their choice and that is to govern against the consent of the governed. Many American citizens, awakening to the heavy hand of a government which now dictates almost everything they purchase, produce, or sell, taxing them into oblivion, telling them which doctors and health plans they may or may not keep, regulating the content of everything they consume, touch, wear, breathe or drive, and whose agents and enforcement officials are becoming increasingly belligerent and thuggish, are making their choices as well. It is time for those who wear the badge, those who wear the uniform, and those who are increasingly ordered to act against their own countrymen to make their choice and take a stand.

H. L. Mencken said that:

It is the invariable habit of bureaucracies, at all times and everywhere, to assume…that every citizen is a criminal. Their one apparent purpose, pursued with a relentless and furious diligence, is to convert the assumption into a fact. They hunt endlessly for proofs, and, when proofs are lacking, for mere suspicions. The moment they become aware of a definite citizen, John Doe, seeking what is his right under the law, they begin searching feverishly for an excuse for withholding it from him.

The question, for those who are ordered to aim a sniper's rifle at a rancher, necessarily becomes one of whom to serve? The people or the directorate?