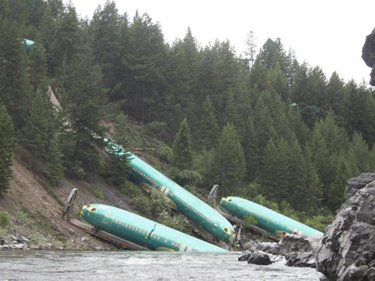 Three Boeing 737 jet fuselages lying in or near the Clark Fork River.
KTVQ:
A Montana Rail Link train en-route from Kansas City to Renton, Washington derailed east of Superior Thursday afternoon, sending three cars of aircraft components into the Clark Fork River.

MRL spokeswoman Linda Frost says 19 cars derailed around 4p.m.

Thursday 18 miles east of Superior near Fish Creek Road and Interstate 90.

Frost tells MTN News a total of 19 cars derailed; seven cars with aircraft components, three cars carrying soybeans, three cars with denatured alcohol and the other seven were empty.

Frost says three aircraft components landed in the Clark Fork River. Frost says no alcohol or soybeans leaked.

She said no one was hurt.