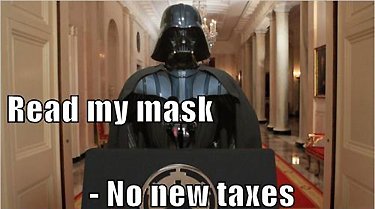 The Washington Post has some discouraging poll numbers.
[T]he legislative branch has been less popular than lice, brussels sprouts and Nickelback for some time now. What if we compared the favorability of 2016 presidential hopefuls and other political leaders with that of "Star Wars" characters?

Hillary Clinton currently has the highest net favorability of any 2016 White House contender. But to put her 19 percent favorable rating in context, she's tied with Boba Fett, the bounty hunter who froze Harrison Ford in carbonite.

None of the 2016 hopefuls is polling higher than Darth Vader. You'll recall that Vader chopped off his son's arm and blew up an entire planet, but evidently in the eyes of the American public these are minor sins compared to Benghazi, Bridgegate and Gov. Rick Perry's hipster glasses. These numbers suggest that if "Star Wars" were real and Darth Vader decided to enter the 2016 presidential race, he'd be the immediate front-runner.

Meanwhile President Obama is polling just two favorability points below Emperor Palpatine, Lord of the Sith. Make of that what you will.