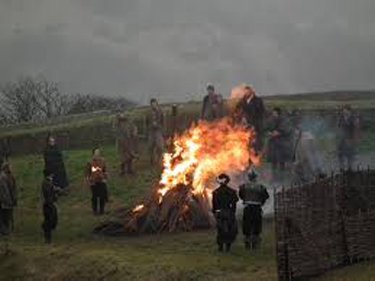 Thomas Hobbes has a little fun imagining a future very different from the present.
The triumph of the Recovery was marked most clearly by the burning of the Episcopal bishop of Maine.

She was not a particularly bad bishop. She was in fact typical of Episcopal bishops of the first quarter of the 21st century: agnostic, compulsively political and radical, and given to placing a small idol of Isis on the altar when she said the Communion service. By 2055, when she was tried for heresy, convicted, and burned, she had outlived her era. By that time only a handful of Episcopalians still recognized female clergy, it would have been easy enough to let the old fool rant out her final years in obscurity.

The fact that the easy road was not taken, that Episcopalians turned to their difficult duty of trying and convicting, and the state upheld its unpleasant responsibility of setting torch to faggots, was what marked this as an act of Recovery. I well remember the crowd that gathered for the execution, solemn but not sad, relieved rather that at last, after so many years of humiliation, of having to swallow every absurdity and pretend we liked it, the majority had taken back the culture. No more apologies for the truth. No more "Yes, buts" on upholding standards. Civilization had recovered its nerve. The flames that soared above the lawn before the Maine State House were, as the bishopess herself might have said, liberating.
Read the whole thing.
Hat tip to Vanderleun.