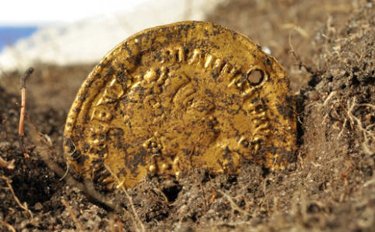 Some warrior dropped this Roman solidus into a posthole on the floor.
Archaeological investigation of Sandby Borg, a Migration Era fort on the island of Öland has been underway since 2010.
Habitation of the fort seems to have ended with a sudden 5th century massacre. Researchers discovered the remains of at least ten unburied individuals.
Most recently, a gold Roman solidus was discovered. The coin is thought to have been part of a looted hoard, dropped during the sack of the castle.
Although the sack of the fort and murder of its inhabitants occurred 1500 years ago, local memories cause residents of the fort's vicinity still to shun the site. Archaeologist Helena Victor stated: "There are still memories 1,500 years later of these events, it's a dangerous place. Parents tell their children that they can't play there because it's a dangerous place. They don't remember the history but they remember it's dangerous."