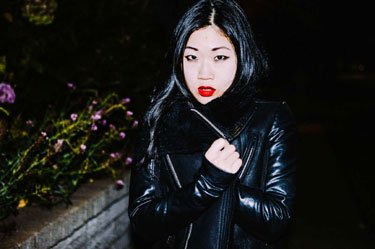 It happens. You walk into Griffin & Howe (or the real Abercrombie & Fitch decades ago) without the slightest intention of buying anything, and you wind up leaving with some English shotgun or Payne fly rod you couldn't possibly afford, but which has suddenly become a cherished and essential component of your personal existence on the planet.
Women's clothes work on women, we all understand, the same way best grade London shotguns work on men. Mary H. K. Choi, in New York magazine, delivers a quite amusing account of how it happened that an impecunious struggling writer (herself) wandered into a posh designer boutique and wound up buying a $4000 leather coat. (My God! woman, you can get a pretty decent grouse gun for that kind of money.)
I have no idea what possessed me to walk into the Rick Owens store. To call this flagship a store is hysterical. It's a miniature fortress of solitude constrained by New York proportions that shrewdly offsets the stark, jagged cave-witch clothes inside. To the uninitiated, it's uninviting and faintly hospital-ish. Entering is akin to arriving at the cafeteria of a new high school, where said high school is populated entirely by clones of Rihanna. It's terrifying. You worry you might wet yourself a little.

The mystique of the store has mostly to do with the designer. Rick Owens is a tall, sinewy man with a thin nose, Old World teeth, and fantastic hair. He resembles an Egon Schiele subject and lives in a five-story Parisian mansion with his muse and business partner, Michèle Lamy. (Lamy doubles as Owens's much older, pygmy-size, polyamorous goth wife.) Together they make $800 shirts that look like lice-infested shrouds worn by medieval serfs.

Their coats appear rough-hewn, essentially untreated hides cut into fascinating shapes of seemingly extraterrestrial origin. The moment you throw one on, however, the weight falls into a mysterious, life-affirming silhouette. The black suede, fur-lined Rick Owens motorcycle jacket I selected made me feel thinner, taller, and infinitely more interesting. I looked as if I were in on a secret. The coat was the distillation of everything I've ever found seductive about not only living in New York but the prospect of belonging there, too. …

I dared myself to buy that coat and then dared that coat to rebuke me. I wanted to prove that I could visit the apex of cool-rich-people New York (as opposed to the tacky, evil, overwrought rich-people New York), buy a souvenir, and not turn into a hobo. I know native New Yorkers complain all the time about how anesthetized the City is now. Still, I've always found living in New York deeply scary. Without a trust fund or famous parent (and even then, sometimes you need both), the odds of success are ludicrous. It's not just the fact that you don't have any money. It's that money no longer makes sense. This is the part that took me forever to figure out.
Read the whole thing, which is apparently an excerpt from the young lady's "How-I-Came-to-My-Senses-an-Got-the-Hell-Out-of-NYC" memoir (published as a quite inexpensive eBook).