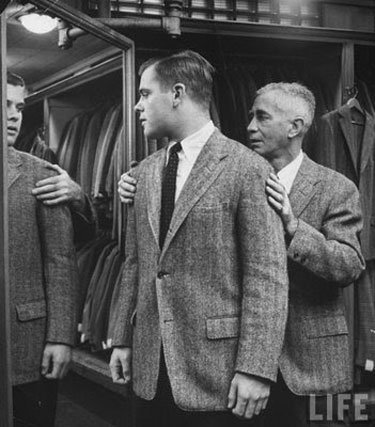 Trying on a sport coat at J.Press in the good old days.
Time for a Strong Gin & Tonic: J. Press Is Shuttering Its Madison Avenue Flagship.

It's a good thing that preppy style is timeless, because New Yorkers will have to make do with whatever madras blazers and toggle coats are currently in their closets—the city is about to lose its premier purveyor of repp ties, seersucker suits and kiwi green cashmere. J. Press confirmed today that it will close its Madison Avenue flagship while the building undergoes extensive renovations, as first reported by Ivy Style. The building-wide renovations, being done at the behest of the landlord, are expected to take about a year. Wherever will the city's trust-funders go for their whale print pants and ribbon belts in the many months to come? (Well, there's always Brooks Brothers, we guess.)

And don't think you can just hop on MetroNorth for a tweed fix. J. Press's original York Street store is also closed—this December, the New Haven building was declared structurally unsound—and while the clothing purveyor has set up a temporary shop on College Street, a rented storefront could hardly be called a beacon of hope in these dark times. ("If I listen hard, I think I can hear Whit Stillman crying," quipped a colleague.)

If there's anything WASPs hate, it's change.
Hat tip to James Harberson.