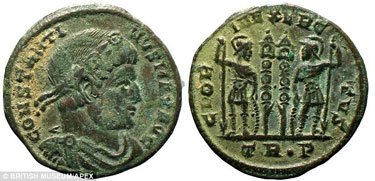 The Roman copper-alloy coins date back to between AD 260 and AD 348 and bear the images of Emperor Constantine, his family, co-Emperors and immediate predecessors and successors.
An amateur metal detectorist has unearthed one of the largest hoards of Roman coins ever found in Britain.

Laurence Egerton, 51, made the discovery as he explored land near Seaton, in East Devon – and he was so concerned someone would steal it, he camped out for three nights while archaeologists excavated the site.

Dubbed Seaton Down Hoard, the collection of 22,000 copper-alloy coins is thought to have been buried by a private individual or soldier for safe keeping, but was never recovered.

At the time the hoard was buried, it would have amounted to four gold coins, or solidi, which would have provided the ration of two soldiers for one year, or a worker's pay for two years. …

'The amount of money in this hoard would at some points have been the equivalent to a soldier's total salary for two years; at other dates it would have bought the services of a skilled craftsmen for perhaps 80 days; it could buy maybe 1,000 or so pints of Gallic beer (or double quantities of Egyptian beer, which wasn't so good) or enough grain to feed someone for two years or so.

'If you try to turn any of those into modern figures, then, it's clearly not the sort of fortune that would allow you to retire comfortably or buy a nice country estate; on the other hand, in a world where most people were living close to subsistence level and would have few if any savings, it's pretty impressive that someone had amassed enough money to live on for a year or so.'

The Royal Albert Memorial Museum (RAMM) in Exeter, which already houses a large collection of local Romano-British objects, has launched a fundraising campaign to purchase the coins.

Mr Egerton originally made the discovery in November 2013, while operating under licence on private land near the previously excavated site of a Roman villa at Honeyditches in East Devon.

The coins were buried in a pit, and may have once been held in a bag, which did not survive.

The hoard was excavated by a team of archaeologists, and were cleaned so they could be identified by experts at the British Museum.
Read the whole thing.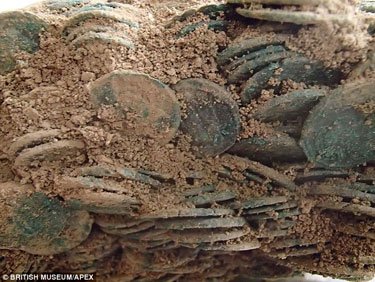 ———————————