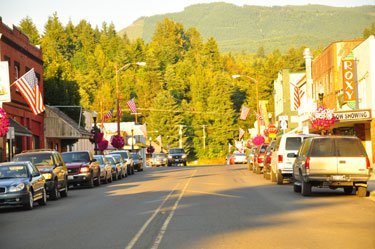 Gerard Van der Leun (very old bio here) recently published a nice essay about moving out of Manhattan to a small town somewhere in the (rural & gun-owning portion of the) Pacific Northwest.
By the time I left the Hive, whatever had once bound me to it had long since frayed away. The upward pace of a "career" seemed more and more like a pointless marathon, a mere job. Long days spent striving to "exceed corporate goals" came to resemble a game of pick-up-sticks played with cows. Efforts to save an enterprise that one didn't own came down to admitting that the enterprise had no intrinsic worth other than maintaining the vulgar lifestyle of an aging monomaniac who could no longer reason his way through two and two to four. It all combined into a vast cloud of wind-spun detritus that obscured the plain and simple fact that while government employees were working 24 hours a day printing more money, nobody anywhere was printing more time.

And so, at last, "Man, you gotta go."

Jack Kerouac, Bard of the Road, wrote "Man, you gotta go." Then he went home, lived with his mother again, and died a drunk. Not my road.

Okay. Fair enough. But go where? Here? Maybe. But where, exactly, is "here?"

Today, for a week or so, "here" turns out to be a small town up on the northwest edge of the nation. In size and composition, architecture and attitude, it is just about the exact polar opposite of the Hive.

Where Central Park in the Hive is a large, long oblong of struggling overused green in the center of an immense slab of asphalt, steel and concrete, the central park of this town is about 25 yards on a side. It's a pleasant patch of cool grass studded with picnic tables and ringed with oaks that drape it in a shawl of shade. At the east end is a brick and cedar bandstand where banjos, guitars and fiddles sing out on odd afternoons and evenings. You'll hear some country and some rock, but mostly you'll hear the strains of bluegrass brought down out of the old Alleghenies and carried far west to these higher, more distant and demanding mountains.

On the west side of the park is a five-foot by three-foot marble faced granite slab in the shape of two tablets donated and erected there by the local chapter of the Eagles. Carved into the marble face in polished script are the Ten Commandments, King James version.

It would seem that whatever local chapter of the ACLU exists in these parts has chosen to ignore this blatant eruption of the Christian tradition in the secular town park. One might suppose the ACLU has done this simply because it hasn't gotten around to it. It would, however, be much more likely that the organization is aware that in this town an ACLU suit to remove the Ten Commandments would be answered not with a five year legal argument, but with 30 rounds of semi-automatic rifle fire into the offices and automobiles of those seeking its removal. Since, for all its posturing, the ACLU has devolved into a refuge for moral and physical cowards with law degrees, it's not difficult to see why this stone, largely unread and unnoticed, has been given a pass.

This is a heavily armed part of the nation and, as a result, it is a very civil and polite part as well.
Read the whole thing.