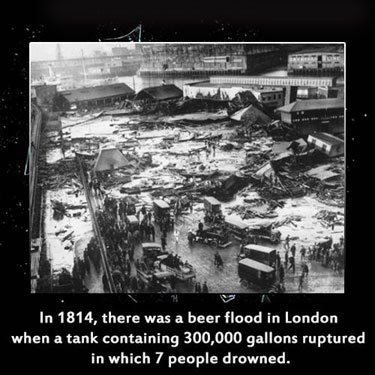 Zythophile remembers today the victims of the London Beer Flood which occurred 200 years ago today:
Wherever you are at 5.30pm this evening, please stop a moment and raise a thought – a glass, too, if you have one, preferably of porter – to Hannah Banfield, aged four years and four months; Eleanor Cooper, 14, a pub servant; Elizabeth Smith, 27, the wife of a bricklayer; Mary Mulvey, 30, and her son by a previous marriage, Thomas Murry (sic), aged three; Sarah Bates, aged three years and five months; Ann Saville, 60; and Catharine Butler, a widow aged 65. All eight died 200 years ago today, victims of the Great London Beer Flood, when a huge vat filled with maturing porter fell apart at Henry Meux's Horse Shoe brewery at the bottom of Tottenham Court Road, and more than 570 tons of beer crashed through the brewery's back wall and out into the slums behind in a vast wave at least 15 feet high, flooding streets and cellars and smashing into buildings, in at least one case knocking people from a first-floor room. It could have been worse: the vat that broke was actually one of the smallest of 70 or so at the brewery, and contained just under 3,600 barrels of beer, while the largest vat at the brewery held 18,000 barrels. In addition, if the vat had burst an hour or so later, the men of the district would have been home from work, and the buildings behind the brewery, all in multiple occupancy, with one family to a room, would have been much fuller when the tsunami of porter hit them.
Read the whole thing.
Hat tip to Rafal Heydel-Mankoo.