Canadian-born, but of Algerian descent, Michael Abdul Zehaf Bibeau was armed with a .30-30 Winchester Model 1894 and an Islamic-style headscarf.
Bibeau had a record of five arrests in Ottawa dating back to 2004, three drug possession (marijuana and PCP) and two parole violations.
Witnesses said the soldier [standing guard at the Canadian National War Memorial with an unloaded rifle] was gunned down by a man dressed all in black with a scarf over his face.

"I looked out the window and saw a shooter, a man dressed all in black with a kerchief over his nose and mouth and something over his head as well, holding a rifle and shooting an honor guard in front of the cenotaph point-blank, twice," Tony Zobl, 35, told the Canadian Press news agency.

Zobl said he witnessed the incident from his fourth-floor window directly above the National War Memorial, a 70-foot, arched granite cenotaph, or tomb, with bronze sculptures commemorating World War I.

"The honor guard dropped to the ground, and the shooter kind of raised his arms in triumph holding the rifle," Zobl said.

Zobl and other witnesses said the gunman then ran up the street toward Parliament Hill, and later entered the main building there, where dozens of shots rang out.
————————–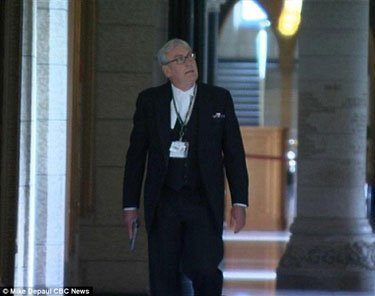 Kevin Vickers, Canada's House of Commons' Sergeant-at-Arms, just after shooting Bibeau.
Canadian MPs barricaded the door of the House of Commons chamber with furniture and hid, while 58-year-old, retired-Mountie Kevin Vickers, who occupies the largely-ceremonial post of Sergeant-at-Arms of the Canadian Commons, went to his office, retrieved a 9mm pistol from his desk, and engaged and killed the gunman.
————————–
Kevin Vickers, understandably, received a hero's welcome when Parliament opened the following day.