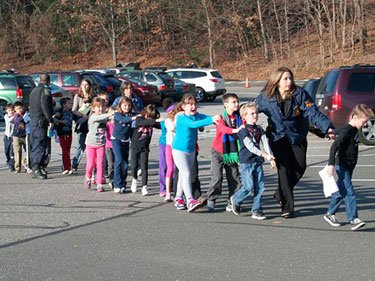 A school lockdown in Connecticut
Regular readers may possibly recall that I am currently blogging from our vacation place/300-acre farm in Central Pennsylvania.
Yesterday, the sounds of low-flying aircraft were heard from our cabin in the morning, and when Karen went into town, late in the afternoon, to get mail from the post office, the small town of Tyrone was buzzing with stories of a shooting in our own neighborhood.
The 10/27 Daily Herald (serving Tyrone, Bellwood, and Surrounding Areas since 1866, but not on-line) reported:
State Police at Hollidaysburg have confirmed a shooting at 260 Van Scoyoc Hollow Road in Snyder Township this morning.

Unconfirmed reports say that a 13-year-old female Tyrone student has been shot in the chest or shoulder at her bus stop near the Tyrone Sportsman's Club. Reportedly the weapon was believed to be a shotgun.

The Tyrone Area School District went on full exterior lockdown as a precaution.

The school web-site said: "Based on conversation with the state police we have been informed that there is no threat to the school. We are merely taking precautionary measures by instituting the secure exterior lockdown

Due to shooting in the community, which is currently believed to be a hunting accident, the district is currently in a secure exterior lockdown."

State Police were still investigating the area with metal detectors and ran infrared by helicopter looking for possible suspects around the Sportsman's Club at 10:30 a.m. The bus stop and a wooded area across the road were heavily investigated.

The victim has reportedly been taken to UPMC Altoona and is in stable condition. State Police and the Game Commission were still on the scene, the shooter was not located and no further information was available at the time of press other that it is believed to have been a hunting accident.
So… What struck me about all this was the craziness of a school lockdown off in the borough of Tyrone, miles away from the scene of a shooting thought to be a hunting accident. This kind of response typifies a contemporary style of "cover your ass at any cost" bureaucratic formalism which characteristically reacts, not so much to threats, as to memes, with preposterous and pretentious brain-damaged forms of completely useless gestures.
I needed, of course, to investigate the facts, so I phoned up the State Police in Hollidaysburg this morning, explaining that I was inquiring about the Snyder Township shooting in my capacity as an Internet journalist.
I learned that what happened was: a 12-year-old girl accidentally dropped a .22 rifle while in the process of putting it away inside her house. The rifle went off, and the girl was struck by a bullet in the abdomen. The young lady is recovering from her unfortunate accident in hospital.
——————————-
Oddly enough, some news agency was actually reporting the story accurately this morning:
Police: Girl, 12, shot after mishandling rifle

TYRONE, Pa. (AP) – State police say a 12-year-old girl was accidentally shot in the abdomen after mishandling a .22-caliber rifle in her home.

Police aren't releasing the name of the girl who authorities first believed had been shot outside her home Monday as she left for school about 7 a.m. That prompted the Pennsylvania Game Commission to investigate whether the girl might have been wounded by a hunter's stray bullet.

But police now say the girl had grabbed the rifle and was returning it to a safe when it fell and discharged in her Snyder Township home.

The Tyrone Area School District was on an exterior lockdown after the shooting, meaning classes operated normally but no visitors were allowed on school property. The lockdown was lifted about 11 a.m. Monday.

Police were continuing to investigate Tuesday.
——————————-
All of which demonstrates the propensity of all forms and flavors of American officialdom these days to react Pavlovianly to popular cultural memes (e.g., "Child Shooting!" — "School Shooting!") demonstrating a pathologically overly-enthusiastic eagerness to wield authority, deploy personnel and equipment, play with gadgets and weapons, and to act out fantasies in public.
Yesterday, we had two government agencies sending armed men scurrying about the landscape, helicopters searching the forest with infrared, and a school system, miles away, undergoing lockdown ("Sorry, Mr. Jones, you can't deliver milk for the school lunch today. We're on lockdown!"), along with a grand search for an imaginary hunter, all in response to a one-party accident that took place inside a private home.
Perhaps we all tend to idealize the past. I could be wrong but, when I think back to when I was young, decades ago, I have a lot of trouble picturing the American adults I grew up among getting into lathers of this kind and responding to emergencies with so much panic and excessive overreaction in defiance of all the facts.
I do think that if somebody came along and said to Sister Daniel, the principal of St. George School in Shenandoah back in 1960, "Hey! you better lockdown the school. There has been a hunting accident over in Brandonville.", Sister Daniel would have said, "What are you, some kind of a nut?"