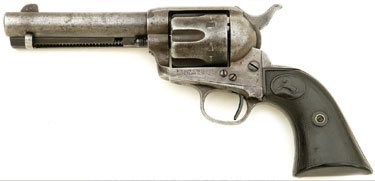 Lot 103. Colt Single Action Army Frontier Six Shooter Revolver Owned And Carried By Harvey "Kid Curry" Logan Of Butch Cassidy's Wild Bunch
Amoskeag Auction Company, Sale No. 104, November 22nd & 23rd, 2014, Lot 103, Estimate: $50,000-75,000.
Harvey Logan, "Kid Curry" originally rode with the Black Jack Ketchum gang, formed his own gang sometime in 1897 and eventually wound up with Butch Cassidy and The Wild Bunch. He was described as "the wildest of the Wild Bunch" and before his career would end he had purportedly killed nine peace officers and two other men in an about 10 year career. While he was described by William Pinkerton (Pinkerton Detective agency) as having "not one single redeeming feature, he is the only criminal I know of who does not have one single good point", he was evidently always kind to the ladies; in fact would often spend his "take" from the Wild Bunch robberies laying up in brothels with friendly ladies and good liquor, until his share was exhausted. Logan rode with Butch and Sundance until they left for Buenos Aires in early 1901. In July of that year Curry, "Tall Texan" Ben Kilpatrick and "Deaf Charlie" Hanks decided they would rob the Great Northern Railroad Coast Flyer No. 3. This they did on July 3, very professionally and well, Logan commandeering the engine with engineer and fireman intact. The train was stopped a few miles outside of Malta Montana, engineer Thomas Jones was made to disconnect the baggage and express cars from the passenger cars and pull the train forward some miles. When safely away from the other train cars, Logan commanded the mail clerk and express messenger, each a Jimmy Martin and a C.H. Smith, to open the express car doors and jump out telling them he would not hurt them, Logan saying all he wanted was "Jim Hill's money" (Hill being the president of the railroad). The men did so and, although it took three attempts, the outlaws blew the safe open and gathered their loot, amounting to 800 sheets of banknotes, each with four notes each of $10 and $20 denominations. They also took about $500 in notes from the American National Bank of Helena, a package of watches and a bag filled with silver coins, all told about $40,000. As the trio was leaving express messenger C.H. Smith hollered to Logan that he wanted his Colt pistol. When Logan asked him "what for young fellow" he told him as a souvenir of the day, Logan obliged by emptying the revolver into the air and tossing it to Smith saying "thanks for your help". Logan would later be captured in Knoxville Tennessee in 1902 and during his trial for the train robbery, eyewitness testimony, from the train's fireman M.F. O'Neal and C.H. Smith himself both related the incident identically, of the outlaw emptying his gun and tossing it to the young express messenger. … The backstrap is very neatly engraved in small script, during the period of use, showing appropriate oxidation and wear from the years: "This pistol was given to me "C H Smith G.N. Ex. Mess" by Harvey Logan during train robbery July 1, 1901".

Della Moore with Harvey Logan