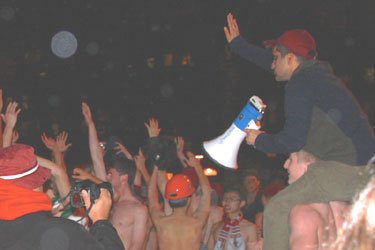 "Dean of College Rakesh Khurana attempts to gain the attention of the participants of Primal Scream by climbing onto the shoulders of a Primal Scream runner Thursday in Harvard Yard. Other students organized a protest in response to recent police brutality [in Ferguson, Missouri] that attempted to delay the start of the run."
Primal Scream is a fairly recent (streaking era) Harvard tradition in which, on the last night of reading period, just before final exams start, Harvard students run naked across and then around Harvard Yard.
This year about 30 left-wing holier-than-thous tried to arrange a four-and-a-half minutes of silence prior to the Primal Scream naked run to protest the shooting of poor Michael Brown. Unfortunately, the more typical drunken and unruly Harvard students, bent upon streaking, objected to interference with the naked run, and proceeded to defy them, initiating the run, and chanting "USA!, USA!" while running.
The lefties grew angry and tried to block the naked runners, chanting "Black lives matter!", while runners responded with obscenities and "USA!", while ignoring them.
A number of Harvard administrators turned up to assist the protestors (not to run naked), and the best moment of comedy occurred when Harvard College Dean Rakesh Khurana climbed atop the shoulders of a naked young man, bullhorn in hand, tried, but failed, to persuade the crown to bow to the wishes of the leftie bedwetters,
Members of the protest said that they were upset by the reactions of the student streakers.

Amanda D. Bradley '15, who helped organize the protest, said that while she did not know the intentions of the primal screamers, she felt disgusted by what they were chanting.

"For people to say black lives matter, and for the crowd to shout back 'U.S.A.,' which is upholding a system that is oppressing black people, I think that that is problematic," she said.

Sasanka N. Jinadasa '15 said she was appalled by what she called a disrespect both for Khurana and the protestors.

"I think that for many students of color, particularly black students, there's always a fear of what white retaliation looks like," she said, citing obscene gestures and language toward protesters.

Keyanna Y. Wigglesworth '16, another protester, said she was "disturbed" and "angered" by reactions to the protest, especially from those in the front of the crowd of streakers who she believed could hear the calls for silence.
But, never fear, the pinkos at the Crimson were never going to let it be said that the left was defeated by youthful high spirits. It was all really a misunderstanding, you see.
Skip L. Rosamilia '17, a Primal Scream participant, said that he could not hear or see through the crowd of streakers.

"I'm sad because it…look[ed] like there was one group who was for [the demonstration] and a huge group that wasn't, and I don't think that was the case," he said, calling the interaction between the protest and the streakers a "huge egregious misunderstanding."

Khurana also said many runners told him that they would have joined the protesting students if they had known about the demonstration.

"I think what it was, is just…a tight physical space and a relatively loosely structured event without actually clear planning," Khurana said, noting that it was difficult for him mediate between the two groups of people.

Some students voiced similar concerns before the demonstration on the Facebook post for the event, saying that the protest would be disruptive to the College tradition of Primal Scream and potentially would risk student safety. As a result, organizers posted an update on the protest's Facebook page saying that they had changed the nature of the protest from a die-in to a moment of silence out of safety concerns and in an effort to preserve the Primal Scream tradition.

Though Walker, one of four principal organizers of the protest, acknowledged Thursday afternoon that there "was some confusion as to what was going on and not a lot of individuals knew what was happening," he said he thought the protest was a success.

"The event was successful because it started a conversation in communities that haven't been talking about this."