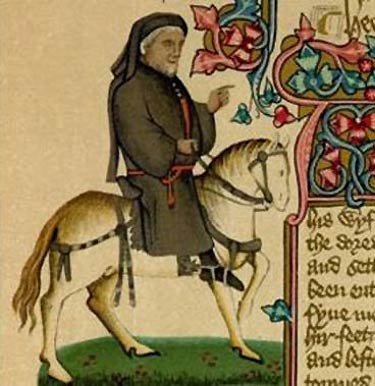 Geoffrey Chaucer from the Ellesmere Manuscript.
Stevie Davies reviews Paul Strohn's microbiography: Chaucer's Tale: 1386 and the Road to Canterbury in The Independent.
Strohm centres on a single year, 1386, at the end of which Chaucer "suddenly found himself without a patron, without a faction, without a dwelling, without a job … without a city."

Exiled from London and his literary circle, Strohm's Chaucer lost an audience, in an age before the printing press, when poetry in manuscript was read aloud in performance. The book's compelling thesis is that Chaucer's loss generated the invention of a "portable audience" within The Canterbury Tales: the pilgrims themselves. …

One of Chaucer's overarching themes is the volatility of fortune, whose reversals – if we are wise – teach us "to maken virtu of necessitee". Strohm's Chaucer is essentially a small player in a world of venal power politics, "a politician of limited gifts, and not much of a factionalist either". A loyalist of Richard II, he'd risen by espousing the long-term losing party. Esquire to the king, Chaucer had made an advantageous marriage. But he and his higher-ranking wife, Philippa de Roet, sister to John of Gaunt's mistress, Katherine Swynford, lived apart and his association with the loathed Gaunt jeopardised him.

Deployed by his political masters to the post of controller of wool custom, Chaucer had the unenviable job of monitoring the activities of "some of the richest and best connected and least scrupulous crooks on the face of his planet". Strohm's portrait of the collector of the lucrative wool custom, corrupt magnate Nicholas Brembre, is formidable. When the royalist faction secured Chaucer's election to the 1386 Parliament, and Brembre's wheel came thundering down, so did Chaucer's. His grace and favour apartment was forfeit. Strohm assesses Chaucer's withdrawal from public life as "a matter of constrained choice". Chaucer became "a wanderer in Kent, with no fixed job and insufficient income". …

Losing "that thick and involving texture of London life" meant forfeit not only of discomfort but of stimulation and conviviality. The listening audience Chaucer now lacked he invented as a fellowship of pilgrims: "Chaucer's varied cast of rogues, pitchmen, scammers … divines, social snobs, humble toilers [is] a miracle of imaginative inclusion." …

From the misfortune of 1386, Chaucer moved towards a sense of authorial identity, preparing his literary legacy for generations to come. The pilgrims mediated "between Chaucer and the extended public he has begun to imagine". The poet's humiliated exile, Strohm compellingly suggests, is part of the deep story of how The Canterbury Tales came into being.