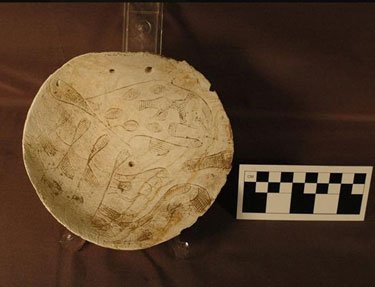 The gorget found February 13, 2015, in Newtown, Ohio is engraved with an image that appears to be half bird and half cat.
WVXU reports the recent discovery of a rare Native American pendant dating to the 5th Century A.D. in Ohio. Only 8 examples of the same style and period have ever been found.
Contractors digging a trench for a fiber optic box north of Newtown's administrative hall earlier this month found human remains. They called police who quickly realized it was a burial site and not a crime scene. They, in turn, called the Cincinnati Museum Center. …

"When the police department actually called us, when I talked to them, he said they found some human remains and he said there was a plate with it. And I kind of knew exactly what he meant because we had found these other two back in 1981," says Rieveschl Curator for Archeology Bob Genheimer.

Genheimer says the plate is actually a gorget, a decorative seashell, with the image of an animal carved on it.

"A gorget is an ornamental item. These gorgets have three holes in them. They have two at the top for suspension and there's one in the middle where they possibly could have been attached to clothing or something else," he says. "And on the inside, they are engraved."

Two other gorgets found in Newtown had images of an opossum and a panther carved on them. This one had a hybrid: part bird, part cat.

"Anywhere else in the world, you would refer to this as a griffin. But that's not something that's very viable in the Americas.

"We believe that the bird may be a Carolina Parakeet. Which, as many people know, is now an extinct bird, but used to be prevalent in the southern United States and as far north as here," Genheimer says.