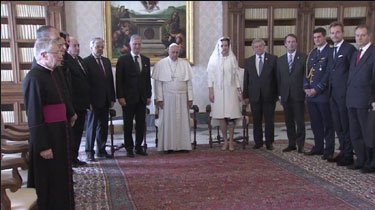 Though handicapped by a recent knee injury, Belgium's Queen Mathilde accompanied her husband King Philippe to a papal audience previously scheduled. Hello Magazine
Rafal Heydel-Mankoo, who is a connoisseur of these kinds of traditions, noted that while traditional protocol requires women granted a papal audience to dress in black, a number of Catholic queens and princesses enjoy Le Privilège du Blanc entitling them to appear in white.
The consensus was that Queen Mathilde's white mantilla was quite becoming.