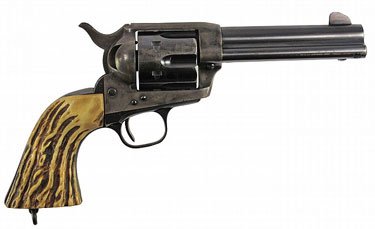 Profiles in History, Calabasas, CA, June 11, 2015, 11:00 AM PST, Lot 164:
Estimated Price: $60,000 – $80,000
General George Patton's personally owned Colt .45 revolver with original stag horn grips, Pat. Sept.19.1871,. July2.72, Jan.19 75. Serial # is 351427, ca. 1928, with the vast majority of the blue finish fully intact. Excellent condition. General George S. Patton, Jr.'s Colt .45 single-action revolver – directly from Patton's grandson, Robert H. Patton. This Colt .45 Model 1871 single-action revolver (Serial No. 351427) was acquired by George S. Patton, Jr. around 1928 and owned by him throughout the remainder of his life, along with his famous ivory-handled Colt .45 revolver that is today on display at The General George Patton Museum and Center of Leadership in Fort Knox, Kentucky. Patton was photographed carrying this weapon at least once – while dressed as Rhett Butler at a "Gone With the Wind" costume party which he attended with his wife, Beatrice (ca. 1941). The event is referenced on page 314 in the personal memoir, The Button Box, written by Patton's daughter, Ruth Ellen Patton Totten. The photograph is included in Patton: The Man Behind the Legend, by Martin Blumenson (p. 148). The weapon was positively identified in the photograph by matching the original stag horn grip (the natural texture of which being absolutely unique), visible above Patton's belt at the 1941 costume party. A Colt .45 single-action revolver (ca. 1928) in this condition, with original stag horn grips – without the Patton ownership heritage – has an appraised value of $16,200 (Blue Book of Gun Values, 17 March 2015). To the best of our knowledge, no other Patton personal Colt revolver with documentation from the Patton family has ever come to market. Interested bidders should note that this is a working firearm and must be shipped through a Federal Firearms Licensed dealer. Provenance: This Colt revolver comes directly from Robert H. Patton, grandson of the legendary WWII General, and includes a signed letter of authenticity stating in part: "…the Colt .45 model single-action revolver shown below, serial number 351427, belonged to my grandfather, General George S. Patton, Jr…The pistol was given to me by my father, General George S. Patton IV, nearly 30 years ago. It was purchased by his father, the General of WWII fame, in 1928. This pistol, with the fancy stag horn grip, was undoubtedly a version of his more famous ivory-handled Colt .45 now on exhibit at the Patton Museum and West Point. Patton owned and used this gun for about 17 years."
Nice grips.