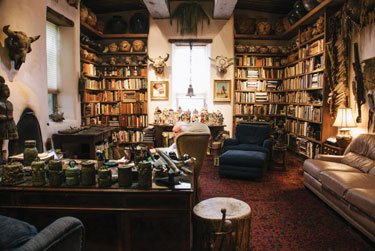 Taylor Clark, in California Sunday Magazine, has a helluva story about a still-ongoing treasure hunt arranged for his own amusement by a colorful millionaire art dealer.
Five years ago, a legendary art dealer left his home in Santa Fe, traveled to an undisclosed location somewhere in the Rocky Mountains, and hid a 42‑pound chest filled with priceless treasure.

In the summer of 1988, not long after doctors removed his cancer-plagued right kidney… late one night, Fenn had an idea… He would stuff a treasure chest with glittering valuables, write a clue-laden poem that would point to its location, and then march out to his favorite spot on earth to take some pills and lie in eternal repose with the gold, like a doomed conquistador in an Indiana Jones movie. All he needed was someone to write and publish the book in which he'd place the poem. "Because there was no point in hiding it if no one knew I hid it," Fenn said.

"Forrest told me the idea at lunch one day," recalled the bestselling author Douglas Preston, a longtime friend and one of the first writers Fenn approached. "His plan was to inter himself with the treasure, so that anyone who found it could essentially rob his grave. I said, 'God, Forrest, that's a terrific story — ​you're the guy who's going to take it with you!'" Still, Preston didn't go for the idea… and neither did any of the other writers. "I think they didn't like the idea of me dying out in the trees someplace," Fenn said.

Fenn's failure to launch this scheme was no great disappointment, however, for the simple reason that his cancer treatment worked. Yet he couldn't let go of his treasure idea. He held on to the chest he'd bought, an ornate bronze lockbox, and spent years filling it. Fenn tinkered with its contents constantly, aiming to create a stash that would dazzle anyone who opened it: gold coins, Ceylon sapphires, ancient Chinese carved-jade faces, Alaskan gold nuggets the size of chicken eggs — some of these items coming from his own private collection, others acquired just to add to the hoard.

For the next 20 years, Fenn kept the chest in a vault in his Santa Fe home, covered with a red bandanna. Occasionally, he'd test out its amazement quotient on friends, who tended to view the whole thing as just another amusing Fennian lark. Certainly, few of them expected he'd actually hide it. For one thing, the man was a born raconteur who readily admitted to embellishing his stories. For another, the treasure was worth a fortune — seven figures, most likely — and not even Fenn was crazy enough to just give something like that away. And after so many years of talk, if he was really going to do it, wouldn't he have done it already?

Then, sometime around 2010, Fenn did it. Without even telling his wife, Peggy, he slipped out and squirreled away his chest — to which he'd added a miniature autobiography, sealed with wax in an olive jar — somewhere in the wilds of the Rockies. It took him two trips from his car to get all of the treasure to the hiding spot, because it weighed 42 pounds and he was in the neighborhood of his 80th birthday by then. For a while, Fenn kept what he'd done secret. His own daughters didn't find out about it until he self-published his memoir, The Thrill of the Chase, complete with the poem he'd spent years refining.
Read the whole thing, and bring your shovel.
————————-
The author serves up an anecdote from his first meeting with Fenn, which illustrates beautifully that grand eccentric's philosophic approach to collecting historical artifacts.
I tell you what," Fenn said at the end of our first afternoon together, hoisting himself up from the leather sofa. "I'll give you a treat." He shuffled over to one of the floor-to-ceiling bookcases that line his library and pulled out an old green bottle that I recognized immediately from Too Far to Walk, one of the nine other books he's written.

"This is the Jackie Kennedy brandy," I said, startled.

In June of 1984, Fenn lodged Kennedy in the guesthouse of his gallery, where she was a model visitor. "A lot of people stayed at my guesthouse, and she's the only one who left my cleaning lady a $50 tip and a two-page handwritten letter," he told me. When Kennedy departed, she left behind a mostly empty bottle of Korbel brandy, which now enjoys pride of place next to Fenn's Air Force medals. In the past 30 years, he has offered sips from the bottle to only two people. He unscrewed its top and extended it to me.

"Now, you take a big swig, I'm gonna punch you out," he warned.

I held the bottle for a moment, hesitating. Wasn't this, in its way, a piece of American history? I took the tiniest volume of liquid that could plausibly be called a sip into my mouth, held it for a moment, and swallowed.

"So, do you feel different now?" Fenn asked.

I couldn't say that I did. History tasted pretty much exactly like old brandy. Yet for the rest of my life, I'd be able to say I shared a drink with Jackie Kennedy.

"See, when I look at you taking a sip of this, I would think of you feeling like you're on a different plateau," Fenn said, grinning. "Because you're part of it now. Instead of being a spectator, you're a player."