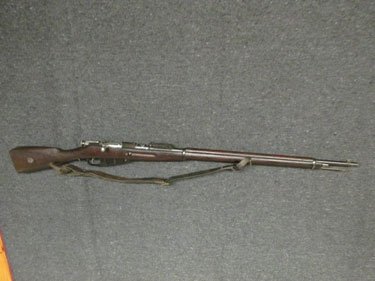 $5025 for a US Martial Marked Mosin Nagant!
For that kind of money you could buy a state-of-the-art Blaser. You could get a Griffin & Howe Springfield. You could get a Commercial Mauser Sporter. You could buy two Mannlicher Schonauers. And, if you got a little lucky at a gun show, you might even be able to buy a Rigby .275.
This one is obviously a bit uncommon and collectible (if you want to collect -shudder– Mosin Nagants), but speaking personally my mind boggles. Myself, I'm not at all sure that, if Vasilli Zaitsev dropped by and offered to sell me the scoped Mosin sniper he used to pop Major Konig at the Battle of Stalingrad for $5000 smackers, I would actually take him up on it.
Excellent condition WWI Remington mfg. Model 1891 Mosin Nagant rifle in 7.62 x 54 caliber that has clear manufacturer markings on the barrel and dated 1917. These rifles were originally produced for Imperial Russia, but when the Bolshevik Revolution occurred deliveries ceased. The U.S. government purchased/contracted the remaining rifles from Remington and used them for training purposes. Remington Mosin Nagant rifles were also issued to American troops during the Siberian "polar bear" expedition during the Russian Civil War. About 78,950 Remington Mosin Nagant rifles were acquired by the U.S. government, out of the 1.5 million originally contracted by Russia. This gun falls in the correct serial number range for U.S. marked Mosins and has good clear and guaranteed original U.S., flaming bomb, and eagle head proof mark cartouche in the stock in front of the triggerguard. Rifle has all matching serial numbers including barrel, bolt body, cocking piece, floorplate, and buttplate. Metal finish is excellent original blue showing very little wear. Bore is bright and excellent with strong rifling. American Walnut stock has beautiful original finish with only a few normal handling marks. Shows a few normal handling marks, right side buttstock has a nice original Remington circular cartouche. This cartouche and the eagle head and flaming bomb proofs have been highlighted in white. Rifle is NOT import marked and NOT Finn marked or modified and is complete with correct original cleaning rod and leather sling. A very rare U.S. military marked Remington Mosin Nagant in excellent condition with all matching numbers that will make an outstanding addition to your collection!
Discussed at Gunboards.