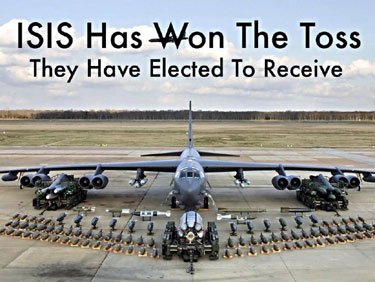 Kurt Schlichter fantasies in IJReview.
And those are our proposed courses of action, Mr. President," concluded the CENTCOM commander.

"When I was elected, I told you I wanted to be briefed on your plan to utterly destroy ISIS, General," the President said. He was young and usually quite calm, but as a Cuban-American son of immigrants, he understood tyranny and knew how to deal with it. "General, what you gave me are timid half-measures that don't begin to meet the intent I expressed to you. Now, I may not have served myself, but I understand the old game of manipulating civilian leadership by providing just the options you want instead of the ones the commander-in-chief requested. You're relieved of command, General. Fired. Agents, show the general out."

He turned to his chief of staff. "Get the Wildman on the line." As the Secret Service agents bum rushed the stunned four star out of the Oval Office, the President took the phone.

On a Florida golf course, the secure cell phone of the retired Marine everyone called "The Wildman" rang, ruining his putt. The Wildman was a legend for his aggression, hence his nickname. President Obama had naturally felt it necessary to replace him with a more pliable, passive CENTCOM commander. He answered, then listened.

"General, this is the President. We need you. I am ordering you off the retired list and back to active duty as CENTCOM commander, effective immediately. I want to see your plan for the total destruction of ISIS in 72 hours. Your rules of engagement are simple. Wipe them out."
Read the whole thing.