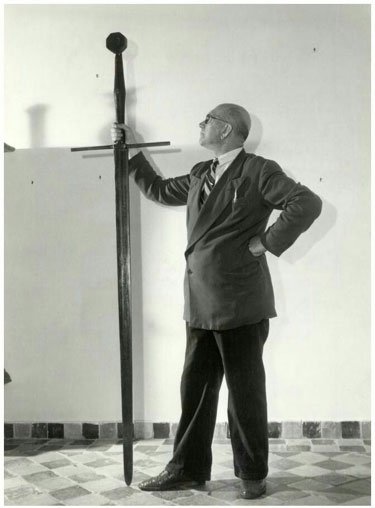 The zweihänder sword that belonged to Grutte Pier (1480-1520), Friesian pirate and warlord.
[A] great sword that is said to have belonged to Pier is on display at the Fries Museum in Leeuwarden. It measures 2.15 metres (7 ft) in length and weighs about 6.6 kilograms (14.6 lb). Some sources put his height at 7 ft.[20] Pier was alleged to be so strong that he could bend coins using just his thumb, index and middle finger. A huge helmet said to be Grutte Pier's is kept in the town hall of Sneek. …

Thee I'll follow, noble Peter,
Thou wert nobler far and greater,
Than the noblest, home-kept lord,
Battling like an ancient Roman,
For his country with her foeman,
Whom he chased with fire and sword.