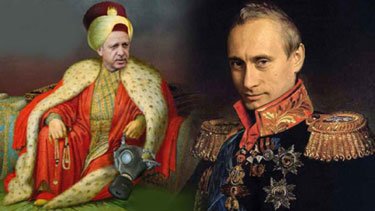 Now that Turkey has brought down a Russian fighter, and Vladimir Putin is promising retaliation, just in time! Daniel Greenfield has whipped up a short guide intended to help US progressives decide whom it is they should be rooting for.
Hello progressives,

This morning you're probably wondering why there's something about Turkey shooting down a Russian plane in the news. Why is this story taking up valuable space in your news feed and taking away time from reading about how stupid Donald Trump and Ben Carson are, or how yoga is cultural genocide or how oppressed Yale students are? And didn't Obama already fix the Syrian Civil War with a hashtag?

You're probably worrying over which side is the progressive one in the Turkey-Russia spat.