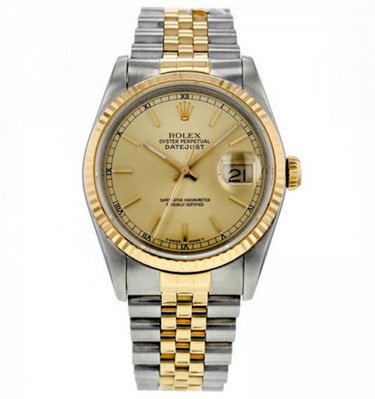 Rolex Datejust 18K Gold & Stainless Steel with Champagne Dial
My kindred-spirit boutique blogger, Bird Dog of Maggie's Farm, brought up the rather personal subject of which watch you wear yesterday in a post titled: Life in America: I feel naked without a watch.
Bird Dog noted that lots of young people these days have given up the now century-old habit of wearing watches.
They are all carrying around with them smartphones and tablets and laptop computers all of which tell you the time with greater accuracy and precision than your wristwatch.
The wristwatch came into being during WWI, when officers started mounting small pocket watches, their faces covered with metal grids to protect them, on wrist bands. It was easier to check the time by glancing at your wrist than to fish out your watch at the end of chain from your pocket, and wrist-carried watches were less likely to be dropped and damaged or lost. Wearing a wristwatch made you seem like a gallant and technologically up-to-date officer commanding troops, so naturally everybody soon wanted one.
I wasn't going to respond to this, finding myself, unexpectedly, out on the extreme edge, but today Gerard van der Leun linked Bird Dog's post so, what with both of my closest blogging relatives (elite-educated, highly-intelligent, libertarian) commenting, I feel obliged to participate.
My first real watch was given to me in something like 5th grade as an inheritance by Aunt Rose when my Uncle George passed away. His watch was a Tissot, an unpretentious, gold-filled watch, which did happily have a date. Tissot is a kind of cheaper, second-brand manufactured by Omega, in the same way Rolex also makes Tudors. I wore that watch in school, working construction, hunting and fishing, right up through college. I had to get it cleaned and repaired a few times. The main problem was the vulnerability of the crystal which was always getting scratched and cracked.
Uncle George's watch finally simply expired of great old age. It was flopping around loosely in its case, so my better half went out and got me a new Tissot as a Xmas or birthday present, and I wore that watch for another decade or more. It, too, finally broke beyond fixing, and when I looked for a new suitable Tissot, I just could not find one I liked. So I bought a Timex.
The Timex was cheap, but I found that a Timex watch only ran for six months to a year, and then you had to go out and get a new one. This was kind of irritating, so I started thinking about buying a real watch. I had run into negative comments a couple of times from high-rolling friends from Yale about my failure to wear an appropriately expensive time-piece. There was, for instance, the time an art-dealing friend asked me to impersonate a buyer in order to help him flim-flam some sleazy European competitor. He actually made me remove my Tissot and put on one of his own high-end watches for the imposture.
Another friend (who runs hedge funds) consulted with me at length while trying to decide between a mere Audemars Piguet Royal Oak or a truly obscenely expensive Patek Philippe.
I began to feel that I may have been letting down the side with my cheap watches.
A bit over twenty years ago, I broke down and bought what I considered the basic expensive watch: a Rolex (see above). I liked the Rolex's indestructible sapphire watch crystal with the little magnifier over the date number, and I liked the Rolex's ability to work well as both a sports watch and a formal evening wear watch. I paid a lot of money for it, but (Ho! ho!) a mere pittance compared to what they want for one this year.
I was, it turns out, mistaken about an expensive Rolex marching on forever without repair. After 5 to 10 years, your Rolex will stop self-winding. It will be grotty and its metal will be all scratched up. You will need to send it in to be cleaned. If you send it to Rolex, you will be sorry. Rolex, these days, will charge you most of a grand for an *official*, authorized Rolex cleaning and repair with genuine, certified and pedigreed Rolex parts.
But there are out there, unofficial, outlaw watch specialists who will do your $1000 Rolex clean and repair (using non-official, unregistered, unbaptized, but perfectly effective substitute parts) for around $300. Your watch will come back running like a watch and looking brand new. They can polish away all the dings and scratches.
My last cleaning was done by the no-longer-young Santa Monica watch dealer Lance Thomas, the guy who shot and killed no less than five hold-up men in self defence. Lance is semi-retired. He doesn't actually clean watches himself, but he gets it done right. He calls his operation The Watch Company. Lance also successfully cleaned and repaired Karen's Girard Perregaux.
Do you need a high-end wristwatch? Clearly, less and less so these days, but it is true that there are certain circles where people are going to look at your wrist and take the watch you wear as a potential indicator of your social status and your business and financial credibility. I would not want to go into a meeting to pitch some serious VC guys wearing a Timex myself, but I'm sure there must be plenty of uncouth contrarians who do.
There is also the argument in favor of the expensive watch that the only jewelry men get to wear are a wristwatch, cufflinks (and I've come to detest cufflinks), a lighter (and who smokes anymore?), and a wedding ring.