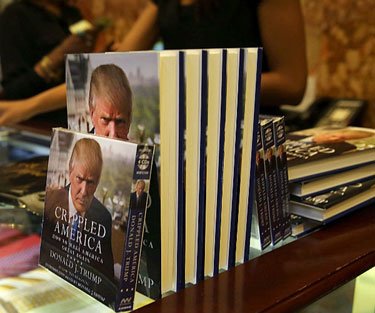 Donald Trump has published 8 books. Who would have imagined? I'd actually heard of one of them. Mercifully, you and I do not have to read them. Carlos Lozada did last summer and tells us all about them. It sounds as if they are very much what you would expect.
Sitting down with the collected works of Donald J. Trump is unlike any literary experience I've ever had or could ever imagine. I spent this past week reading eight of his books — three memoirs, three business-advice titles and his two political books, all published between 1987 and 2011 — hoping to develop a unified theory of the man, or at least find a method in the Trumpness.

Instead, I found . . . well, is there a single word that combines revulsion, amusement, respect and confusion? That is how it feels, sometimes by turns, often all at once, to binge on Trump's writings. Over the course of 2,212 pages, I encountered a world where bragging is breathing and insulting is talking, where repetition and contradiction come standard, where vengefulness and insecurity erupt at random.

Elsewhere, such qualities might get in the way of the story. With Trump, they are the story. There is little else. He writes about his real estate dealings, his television show, his country, but after a while that all feels like an excuse. The one deal Trump has been pitching his entire career — the one that now culminates in his play for that most coveted piece of property, at 1600 Pennsylvania Ave. — is himself. …

Streaks of insecurity run through the books. Trump constantly reminds readers that he studied at the University of Pennsylvania's Wharton School, a concession to the credentialism he purports to despise. ("I went to the great Wharton School of Finance and did well" . . . "I learned at the Wharton School of Finance that the economy runs in cycles" . . . "I have had friends, many friends, who went to the Wharton School with me who were very smart.") Everything he owns is the best, biggest, hottest. His apartment: "There may be no other apartment in the world like it." His yacht: "probably the most beautiful yacht ever built." His living room: "While I can't honestly say I need an eighty-foot living room, I get a kick out of having one." And his third wife, Melania: "considered by many, including me, to be one of the most beautiful women in the world."
Read the whole thing.