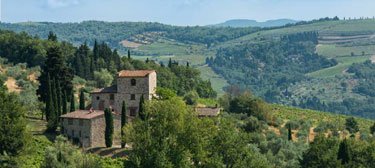 Only six acres, but quite a trophy property!
The eight-bedroom villa, located near Siena, was bought by the Renaissance master in 1549 and remained in the Buonarroti family until 1867 – more than 300 years after his death. The home is surrounded by the vineyards of Chianti, with views of Tuscany's rolling hills. Since Michelangelo purchased the home in 1549, the home has only had three owners including the current owner, who possess the original deed to the property. The deed describes Michelangelo as "a dear sculptor and Florentine citizen". The property, believed to date back to the 11th century, also comes with eight bathrooms, an old mill and a lemon grove and could be yours for $8,165,250 (excluding closing costs).
——————————
Robb Report:
Located on over six acres above the rolling hills, the 12,915 square feet of living space is contained in three multi-story buildings, including an ancient tower, believed to date back to the 11th century. The original architecture is accented throughout with large stone fireplaces, beamed and barrel ceilings. Consisting of eight bedrooms and seven full baths, all rooms pay homage to the period and modern conveniences, though all available, blend into the background. The kitchen has all the rustic romance of the early centuries with high-end appliances that do not take away from the original architecture. Grounds are park-like with lawns and mature plantings with a lemon orchard, olive grove and Chianti vineyards, as well as the original olive oil mill. The listing agent is Joni Hazelton of Handsome Properties International.
——————————