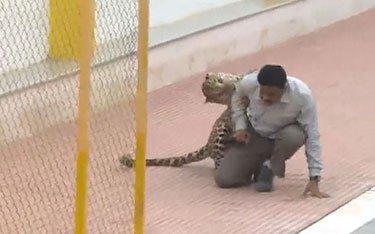 A young male leopard injured six people as it eluded capture for 12 hours after it ventured into the grounds of an elite school in the Indian city of Bangalore. …

The leopard was first spotted strolling around the thankfully empty corridors of the Vibgyor International School on surveillance video by security guards. The CCTV footage later showed it had entered the grounds at about 4am.

As crowds gathered to watch the animal prowling around the school premises, forest department personnel arrived on the scene equipped with dart guns and tranquillisers.

But the animal then went into hiding and remained out of sight for several hours before it was spotted outside the school in nearby bush.

As locals descended on the scene, the animal darted back inside the school where the near fatal case of hide-and-seek intensified.

With officials closing in on its hiding place in a classroom, the big cat made a run for it and raced towards the swimming pool, sending people dashing for cover.

It lunged at one man who managed to ward it off. But it then took Sanjay Gubbi, a wildlife expert, by surprise as it raced towards him.

Mr Gubbi tried to scale a compound wall, but the animal caught him and dragged him to the ground, mauling him next to the pool as he fought it off.

It was after this encounter that one of the forestry team finally managed to shoot it with a tranquilliser.The animal retreated towards a bathroom where it finally collapsed.

"It was a long struggle to capture the leopard," senior police official S Boralingaiah told reporters. "Although it was injected with tranquilisers it could be captured only around 8.15pm local time when the medication took full effect."

The leopard, which is thought to have ventured from a nearby forest, has now been moved to a national park. The six injured people were treated for minor injuries.