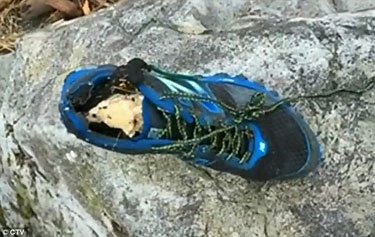 Severed feet inside shoes keep washing up on Pacific Northwest beaches. This has been going on for years, and the latest, found February 7 on a beach in Vancouver Island, has drawn international news coverage.
They appear on the sand like any piece of sea detritus. Sometimes they're found, amid the candy wrappers and cracked shells, by volunteers cleaning up the area. Other times a vacationer might glimpse the grisly discard from the corner of her eye, a serene walk along the beach interrupted just like that.

As more people learned about these discoveries, they attracted morbid scavengers to the Pacific Northwest shorelines, where the Salish Sea connects waterways along the west coasts of the United States and Canada.

What these scavengers sought remains a prickling curiosity: severed feet attached to running shoes, washed up from origins unknown.

Sixteen of these detached human feet have been found since 2007 in British Columbia, Canada, and Washington state. Most of these have been right feet. All of them have worn running shoes or hiking boots. Among them: three New Balances, two Nikes and an Ozark Trail.

The most recent one turned up earlier this week.