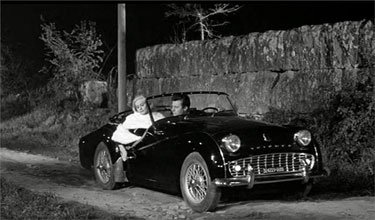 Your typical Triumph sports car driver with his typical date.
Back in the early 1970s, I had a classic 1959 Triumph TR3A. It was a very cool car, and though I have owned faster and more sophisticated cars since, I've never owned any I enjoyed more.
Old Cars Weekly, this week, did a tribute to my old car's immediate predecessor, the TR2, built from 1953 to 1955.
Sir John Black, who headed Triumph, decided he needed a sports car. He tried and failed to buy Morgan, so he created his own sports car and exhibited it at the 1952 London Motor Show. This car — known as the 20TS — generated interest, though it was gawky, underpowered and had a weak suspension. The next year's TR2 roadster was different — it was a real sports car designed by Walter Belgrove with a sunken "small-mouth" grille, cut-down doors and a 2.0-liter, 90-hp version of the Vanguard engine that was good for 100 mph.

TR meant "Triumph" and the company's advertising department promised "more performance per dollar than any other car in the world." Triumph claimed 0-to-50-mph acceleration in 7.5 seconds. "You're as young as you feel at the wheel of a T.R.2," the early ads said. "The car that let's you drive, and doesn't drive you!"

First-TR-2

The Triumph TR2 roadster carried an East Coast Port-of-Entry price of $2,448 and weighed just 1,960 lbs. Its 1991-cc pushrod engine featured three main bearings, solid valve lifters, an 8.5:1 compression ratio and twin S.U. carburetors. The Vanguard four-speed gearbox was linked to a 3.7:1 rear axle.

The TR2 could go from 0-to-60 mph in 11.9 to 13.7 seconds and flash through the standing-start quarter-mile in 19.6 seconds at 70 mph. Fitted with an optional overdrive and a belly pan (or "undershield" in British terminology); one Triumph hit 124.095 mph on the world-famous Jabbeke Highway in Belgium.
Read the whole thing.