I recently purchased an interesting pre-WWII custom rifle. It is a 1903 Springfield action, barreled by William Sukalle (renowned barrel-maker of Tucson, Arizona) in 7x57mm Mauser, with a stock by the legendary Adolph Minar of Fountain, Colorado.
Jack O'Connor once owned a Minar-Sukalle rifle in 7×57. The one I bought isn't his, but there is a note signed by Jack O'Connor describing the rifle, tucked away in the trap under the pistol grip cap.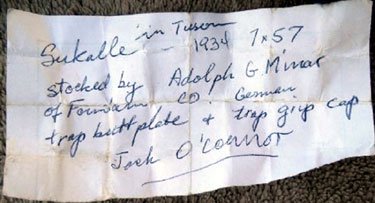 Minar died young in 1936 at the age of 56, and is believed to have stocked a total of 36 rifles. O'Connor owned more than one of them. Phil Shoemaker today has Jack O'Connor's Minar .30-06. The Shoemaker rifle was previously given by O'Connor to Sports Afield Camping editor John Jobson, who wrote about it.
My rifle has some very distinctive engraving. I was wondering if there are any experts out there who would recognize the style of the engraver. Here is a photo of the floorplate: