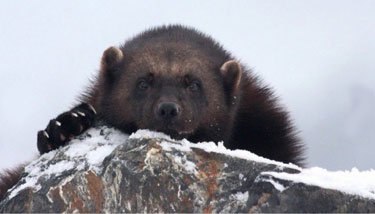 Mike Miller's proposal to train wolverines to search for—and help rescue—avalanche survivors has raised some eyebrows around his corner of Alaska, near Anchorage.

"New ideas normally do sound ridiculous," Miller says from his office at the Alaska Wildlife Conservation Center, about an hour south of Anchorage in a valley popular with backcountry adventurers. The organization, which Miller founded two decades ago, houses hundreds of displaced or orphaned animals and has worked on big projects like reintroducing the Wood Bison to the Alaskan wilderness and repatriating condors from the San Diego Zoo. But what's got Miller excited these days is training and breeding Kayla and Kasper, the two wolverines he's recently acquire.

"Anything you can train a dog to do, you can train a wolverine to do, five times quicker," Miller says.

Miller is fully aware that his plan sounds a little ridiculous. When I emailed him to ask about his idea, he felt compelled to defend it preemptively. "One hundred years ago, people who suggested using dogs for avalanche victim search were thought to be crazy," he wrote. "I hope your readers understand that we are professional and serious."

On the phone, Miller's pitch is compelling. Right now, avalanche search and rescue or recovery is carried out by dogs—usually shepherds or retrievers—who walk the avalanche site with trainers, hectare by hectare, hunting for the scent of buried humans. Wolverines, Miller says, were born to do this; smelling a creature 20 feet below the snow is instinctive for them. They're known to run along avalanche lines searching for dinner among the animals buried deep in the slide. The squat, bear-like member of the weasel family is famed for powering up difficult terrain that would require professional climbing equipment for humans.
Read the whole thing.
Wolverines dig faster than dogs, and then, when he finds a victim, your wolverine rapidly consumes the body, thus saving the deceased's family all those funeral costs. The trick is bound to be: how do you stop him from eating the avalanche victim found still alive?