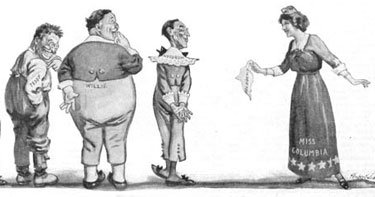 Theodore Roosevelt (Progressive Party), William H. Taft (Republican), Woodrow Wilson (Democrat). Miss Columbia hands out the presidency.
Joseph Cummins reminded us, at Politico last month, that the country has a long history of scurrilous and unseemly presidential election contests. Take the 1912 Election, for instance…
[O]ne of the great American presidential manliness taunters in American history was Teddy Roosevelt. Henry James called him "a monstrous embodiment of unprecedented and resounding noise," and he is the presidential candidate whose bombast most resembles that of Donald Trump. During the election of 1904, he called the president of Venezuela "a villainous little monkey" and tagged his Democratic opponent, Judge Alton Parker, "that neutral-tinted individual"—the "low-energy" charge of its time. In 1912, during the historic election that split the Republican Party and handed the presidency to Woodrow Wilson and the Democrats (sound familiar?), Roosevelt (who would run as a Progressive "Bull Moose" Republican) showed up at the contested convention wearing a sombrero, smoking a cigar and calling President William Howard Taft a "rat in a corner." (Unmanned, Taft could only respond weakly that Roosevelt was "neurotic.") During that same fractious election, after letters came to light that seemed to indicate that the married Woodrow Wilson might be having an affair, Teddy sneered: "It wouldn't work. You can't cast a man as Romeo who looks and acts so much like an apothecary clerk."
Read the whole thing.