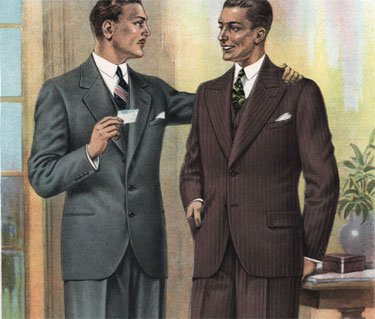 Harry Mount is frustrated to find that most tailors have succumbed to the two-button suit trend.
Last week I walked along Jermyn Street, spiritual home of the gentleman's suit, and noticed something shocking. The jackets in the shop windows had lots of materials — tweed, cotton, wool — in all colours, shades and checks. But every single jacket had two buttons.

When did tailors get so boringly uniform? Why has the three-button suit — the classic style that dominated the 20th century — been wiped off the map? As a diehard three-button man, am I a fogeyish dinosaur, a walking Bateman cartoon: 'The Man Who Wore a Three-Button Suit in the 21st Century'?

I seek solace (and a new three-button suit, in storm- grey, 13-ounce birdseye wool) from Tina Loder, a tailor for more than 30 years, and one of the few women tailors on Savile Row. 'We're going through a two-button cycle, just as we went through a three-button cycle a decade ago,' she says. 'Two buttons signal a casual informality and egalitarianism.'

But what if I don't want to look casually informal and egalitarian?
Read the whole thing and insist on three-button suits.
Hat tip to David Wagner.