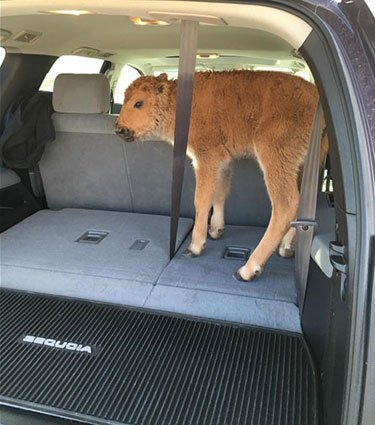 Karen Richardson of Victor, Idaho, was one of several parents chaperoning a group of fifth-graders on a field trip to Yellowstone this week.

Richardson says on Monday, as students were being taught at Lamar Buffalo Ranch, a father and son pulled up at the ranger station with a bison calf in their SUV.

"They were demanding to speak with a ranger," Richardson tells EastIdahoNews.com. "They were seriously worried that the calf was freezing and dying."

Rob Heusevelet, a father of a student, told the men to remove the bison from their car and warned they could be in trouble for having the animal.

"They didn't care," Heusevelet says. "They sincerely thought they were doing a service and helping that calf by trying to save it from the cold."
Read the whole thing.
UPDATE 5/16, KRTV: The calf was not accepted back by the herd and wound up being euthanized because it was creating a hazardous situation by continually approaching people and vehicles.