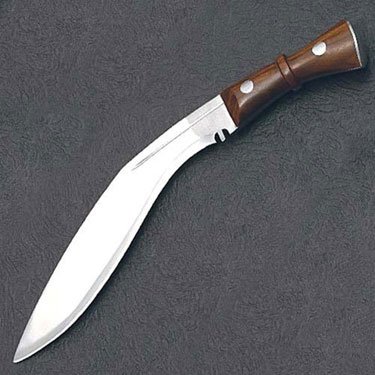 AN SAS soldier killed three Islamic State fighters with a Gurkha knife with the elite trooper decapitating one with a single swipe of the kukri after he was caught in an ambush in Iraq.

The sergeant, with 15 years' combat experience, killed a further two gunmen and injured at least three others.

The attack occurred when Iraqi troops launched a massive assault on the besieged city of Fallujah, a key IS stronghold.

The SAS were acting as military advisors and leading small groups of Iraqi special forces.

During one attack, an SAS and Iraqi team entered a bombed-out factory hunting a sniper. But the troops were ambushed by IS gunmen and several Iraqi soldiers were killed and four seriously wounded.

The SAS soldier returned fi re as he dragged injured troops to safety before he was pinned down by enemy gun-fire.

When he ran out of ammo the IS gunmen attempted to capture him alive but instead the 27-year-old sergeant began lashing out with kukri, given to him by a British Gurkha soldier.

A senior defence source said: "As soon as his ammunition was expended, the IS gunmen tried to storm him.

"As they went to grab him he unsheathed his kukri and began slashing away.

"He decapitated the first gunman, slit the throat of second and killed another with a third blow. He then sliced away at three others.

"The IS gunmen fled in panic allowing the SAS soldier to carry the injured men to safety.

"He expected to be killed but thought he'd take as many of the enemy with him.

"When he was reunited with Iraqi troops they thought the he was seriously wounded because he was covered in blood but he explained that the blood wasn't his.

"He cleaned his knife, grabbed some more ammo and then led another Iraqi special forces team into battle."

The sergeant is now expected to receive a gallantry award from the Iraqi Army.

The Daily Star Sunday understands that the SAS man had taken his kukri on combat missions in Iraq, Afghanistan and Libya but this was the first time that it had been used in battle.

He was given the knife by a Gurkha before he joined the SAS and was told that once unsheathed the knife must draw blood.
Full story.