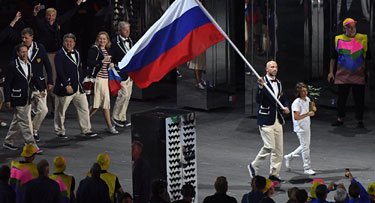 The Russian Olympic Team in the parade of nations.
Breitbart reports:
The Rio Olympics went off with a bang on the eve of the opening ceremonies.

A man initially described by Brazilian authorities as a Russian diplomat killed a would-be robber with the assailant's own gun on Thursday near the city's Olympic Park. The decedent smashed the man's window in an alleged robbery attempt. The prey-turned-predator reportedly struggled with the man, used jiu-jitsu to pull the assailant into the car, and then secured the thief's own gun, which he used to shoot his attacker.