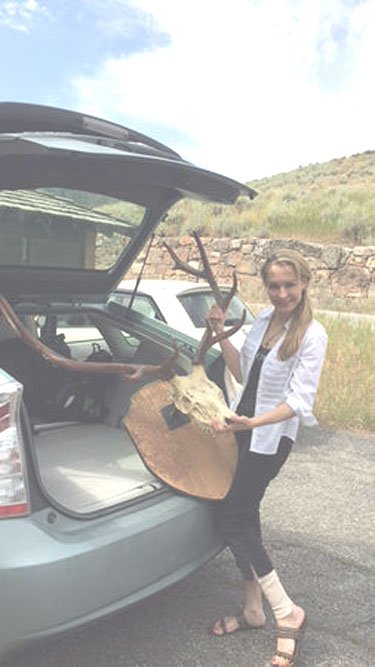 It was roughly three years after Ernest Hemingway had committed suicide in Ketchum, Idaho. Thompson was visiting the late author's home, trying to find what had made the area so attractive to Papa in his final days. Over the entrance to the cabin was a 6×6 set of elk antlers (it's unclear if they were from a Hemingway hunt, but they are presumed to be). When the admiring journalist left Ketchum and headed to his home in Aspen, Colorado, so did the antlers.

That was in 1964. Some 52 years later, the antlers are back in Ketchum, returned not by Thompson himself, but by his widow.

Anita Thompson recently gave an interview to BroBible.com in which she said, "He got caught up in the moment. He had so much respect for Hemingway. He was actually very embarrassed by it."

Hunter, 27 at the time, wanted to understand what brought Hemingway back to Idaho after years as an expatriate in one country or another. He visited Papa's Ketchum home while on assignment for The National Observer, then headed back to write an article about his conclusions. The antlers came off the cabin's front doorpost and along for the ride.

Thompson never boasted about the theft; never invited friends over to see his prize. As much as the gonzo journalist loved to insert himself into stories and "tell it exactly as I saw it," he was less than forthcoming about the antlers. They stayed in semi-seclusion for the remainder of his life, hung unceremoniously in his garage.
—————————————–
A young Hunter S. Thompson went to Idaho to write about Ernest Hemingway and decided to take a piece of his hero home with him — a set of trophy elk antlers.

More than half a century later, the gonzo journalist's wife returned the antlers to Hemingway's house in the mountain town of Ketchum.

"He was embarrassed that he took them," Anita Thompson said Thursday, noting the deep respect her husband had for Hemingway's work. "He wished he hadn't taken them. He was young, it was 1964, and he got caught up in the moment.

"He talked about it several times, about taking a road trip and returning them," she said.

She gave back the antlers Aug. 5 to Ketchum Community Library, which helps catalog and preserve items in the residence where the author took his own life. It's now owned by the Nature Conservancy.

In 1964, Hunter Thompson, then 27, came to Ketchum when he was still a conventional journalist. He had not yet developed his signature style, dubbed gonzo journalism, that involved inserting himself, often outrageously, into his reporting and that propelled him into a larger-than-life figure.

Thompson was writing a story for the National Observer about why the globe-trotting Hemingway shot and killed himself at his home three years earlier at age 61. Thompson attributed the suicide in part to rapid changes in the world that led to upheavals in places Hemingway loved most — Africa and Cuba. …

In the story, later collected in his book "The Great Shark Hunt," he noted the problem of tourists taking chunks of earth from around Hemingway's grave as souvenirs.

Early in the piece, he wrote about the large elk antlers over Hemingway's front door but never mentioned taking them.

For decades, the antlers hung in a garage at Thompson's home near Aspen, Colorado.

"One of the stories that has often been told over the years is the story of Hunter S. Thompson taking the antlers," said the library's Jenny Emery Davidson, who helped accept the trophy. "These are two great literary figures who came together over the item of the antlers."

Davidson said historian Douglas Brinkley, who spoke at the library in May and was familiar with the antler story after interviewing the writer, contacted Anita Thompson. She called the library on Aug. 1.

Davidson said the antlers have since been shipped to a Hemingway grandson in New York who wanted them. It's not clear if the antlers came from an elk killed by the author, who was a noted big game hunter, or if they were a gift.

Sean Hemingway didn't respond to emails or phone messages seeking comment.

Like Ernest Hemingway, Thompson ended his own life by shooting himself, dying in 2005 at age 67 at his Colorado home.

His widow wants to turn the house where he lived and worked into a museum, planning to open it next year by invitation only. Like Hemingway's home, it's much the same as it was when Thompson was alive.

"I couldn't open it with a clear conscience knowing there's a stolen pair of antlers," Anita Thompson said, noting the theft was unusual behavior, even by her husband's standards.