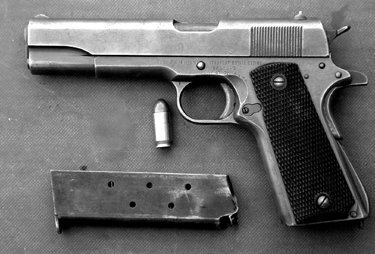 From the November/December American Handgunner (paywall) Reader Speakout Column, p.18, titled "Military 1911 Shooting," Robert Johnson discusses the 1911A1's loose tolerances:
After I received my [Marine Corps] commission as an officer, this gave me the right to carry a sidearm. An old Gunny told me: "Get one that rattles, it'll never jam on 'ya." Well, the Gunny was right. I wasn't a great pistol shot, but the old 1911A1 never missed a beat. In my two tours in exotic Southeast Asia ('68 and '69) I used the pistol on a couple of occasions, and true to form, it never missed a beat. When I got back to the land of the Big PX I went out to the firing range and got the same results Roy did: 3-3 1/2″ at 25 yards. I still have that old warhorse, and from time to time I touch it off on my backyard range.

The emotions keep flooding back overtime, then.