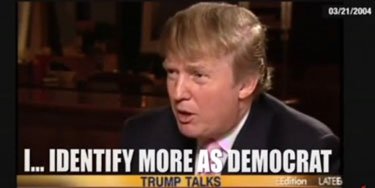 A FB friend writes:

Out of 16 candidates in the primary, the disaffected Republican electorate cast a little over 3 million votes for Trump, abetted by 12 million democrats voting in open GOP primaries and sent Trump to the convention with majority of the delegates. The GOP shouldn't have prevented a floor fight, but they did and we now are expected to vote for a democrat on the GOP ticket in the presidential election.
——————————————
Another friend adds:
Utah has voted Republican since 1964. Trump has been ahead in Texas by about six points and at one stage, by just two. Romney took it by 16. Similar polls are found in other historically red states like Georgia, South Carolina, and Arizona which has been reliably Republican since Ike and has voted Democrat just once in the last 16 presidential elections. People who regularly vote GOP are abandoning the party in droves. And this didn't start after the Tic Tac tape. In aircraft crashes this is what is called 'Controlled Flight Into Terrain'. The only thing surprising about all of this is the near-delusional denial by some.