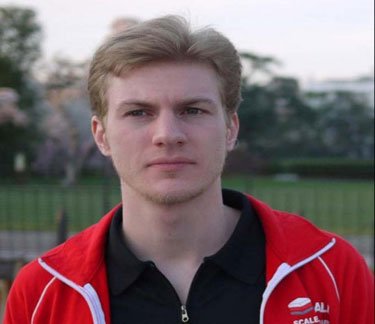 Stabil says: "I'm a fat, bald, short guy whose only quality is that he isn't an ax murderer." He's lying about all that. As the photo shows, he isn't fat, bald or short, and he is the founder of a "multi-cloud management platform" company, which ought to make him something of a catch.
Sebastian Stabil claims that he went on 150 dates in four months, meeting girls and inviting them out via Tinder using an automated app to swipe and exchange messages.
I decided to hack the system and go for volume instead of personalization. To hell with romance — I needed to play my odds even if it meant right-swiping the whole Bay Area.

You need a certain number of candidates to be able to benchmark what quality means, and humans are really difficult to assess. In computer science, this is known as the optimal stopping algorithm, aka the secretary problem.

A few lines of code later, my app was born. An abstraction layer capable of managing online dating for me:

Automatic swiping
Automatic messaging
Automatic date scheduling

I quickly got hundreds of matches, and hundreds of messages.

My first problem was solved: getting leads into the pipeline. I had a new problem now: volume. So I decided to industrialize the process.

I had to qualify each lead — see with which girl there was a fit and with which there wasn't, to maximize my chances. So, I automated everything. Openers, follow-up messages, swiping, bookmarking, text messages and phone number recording. The machine was well-oiled.

I assumed canned messages wouldn't work well, but after sending more than 10,000 I discovered wasn't a significant response-rate difference between personalized and generic messages. At least, that's what the data said. I became an online dating magician who knew how to optimize a profile with  A/B picture-testing and messages. If I changed my profile picture and got more "likes" as a result, that meant it was better. I was tracking data, which made it easy to see what performed best.

Conversion rates increased: more matches, more leads, more dates to schedule. A new match would receive up to seven follow-up messages to maximize response rates. To give you ballpark numbers, 43% responded after the first message, 21% after the second, 14% after the third, 9%, 3%,1%, 1%. The rest sent me a message first.

Here is the standard sequence of messages I used.

Bonjour ! Care to meet over coffee some time next week?

Perhaps I can tempt you with some pastries instead? I know of place with fruit tarts, chocolate pies, and macaroons. :)

Can I interest you in a chai latte then? Better than coffee, and we can still get the pastries!

Fine, if you don't like coffee nor pastries nor chai, we can do tea. How does tea sound?

Yeah, you are right. Tea is a little boring. We should get ice cream! How about the Bi-Rite Creamery?

Ice cream is too cliché anyway. We should do something no one else does on a first date, like meet at a gas station and get beef jerky! Think of the stories we could tell our grandkids!

Alright, I'll admit that meeting at a gas station isn't the most romantic. And let's be honest: American food portions are so large we don't need more calories. How about a boat ride on Stow Lake? We can get a nice pedal boat and get fresh air and plenty of exercise. How about that?

As soon as it got an answer, the program would prompt for a phone number, leading sometimes to disjointed conversations.

The number would then be recorded in my custom CRM and automated texts would be sent with Twilio. I also had some tricks ,  like subscribing to premium services to make my messages more visible. It worked well to get attention… but not always interest.

I was now dating at scale.
Read the whole thing.