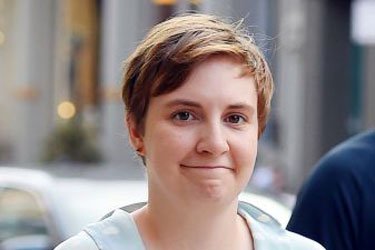 You knew that Lena Dunham was going to compete.
Actress and Hillary Clinton campaign surrogate Lena Dunham has broken her silence after the Democratic presidential candidate's loss to Republican Donald Trump earlier this week, describing in a blog post the agony of being at Clinton's election night party in New York City and insisting that she "never truly believed" that Trump could win.

The 30-year-old Girls actress, who had hit the campaign trail repeatedly for Clinton for months leading up to the election, described waking up on Election Day feeling "rosy" and "thrilled," only to see the good feelings evaporate hours later at the Jacob Javits Center in Manhattan, when the election returns came flooding in.

"At a certain point it became clear something had gone horribly wrong. Celebrants' faces turned. The modeling had been incorrect," Dunham wrote in an essay for her Lenny Letter blog. "Watching the numbers in Florida, I touched my face and realized I was crying. 'Can we please go home?' I said to my boyfriend. I could tell he was having trouble breathing, and I could feel my chin breaking into hives."

Dunham said she left the party early and was informed of Clinton's loss when a friend called and told her.

The actress wrote that as a result of her support for Clinton throughout her campaign, she received "threats and abuse" at a level she could never have imagined. However, she remained hopeful that her detractors represented "the dying moans of the dragon known as the patriarchy being stabbed again and again in the stomach."

Dunham continued:

We believed that on November 9, they'd be licking their wounds while we celebrated. It is painful on a cellular level knowing those men got what they wanted, just as it's painful to know you are hated for daring to ask for what is yours. It's painful to know that white women, so unable to see the unity of female identity, so unable to look past their violent privilege, and so inoculated with hate for themselves, showed up to the polls for him, too. My voice was literally lost when I woke up, squeaky and raw, and I ached in the places that make me a woman [Emphasis added], the places where I've been grabbed so carelessly, the places we are struggling to call our own.
Whole story.