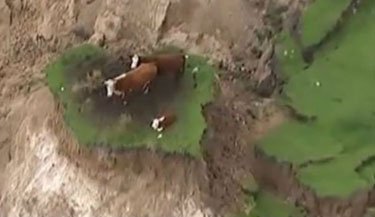 Science Alert has videos.
Helicopter footage captured over the demolished farmlands outside the New Zealand town of Kaikoura has revealed the fate of three cows after Monday's devastating magnitude 7.5 earthquake.

The three cows – including one very chill calf – managed to huddle together on a small patch of grass, as everything around them crumbled to form a tiny island.

"It was clear that the cows had slipped down on this big chunk of land," Newshub camera operator Chris Jones explained. "The cattle had obviously ridden these islands of land, and there's this group of cows suspended 20 feet [6 metres] in the air."

Jones estimates that the island is between 50 and 80 metres across.

While the trio would not have lasted long stuck on such a small area of grass, their owner counts them as lucky to have found a safe place amid the chaos.

The Kaikoura farmer, who has chosen to remain anonymous, told Newshub he managed to save 14 cows in total (including these three), but did lose a few in the destruction.

"We did lose stock, there were stock losses, but the whole hillside fell during the earthquake and we had a lot of stock on there – we don't know what we've got," he said.

"It was very steep limestone bluff covered in lovely pasture a week ago and now it's all in the gully."

The good news is that while the cows had to stay put for a day while the safety of the area was assessed, they've now been rescued, and the internet can breathe a sigh of relief that our favourite cow buddies are in safe hands once again.